Specifications 
For the nit-pickers and nerdy ones here, I'm giving the specs and technical sheets. For all the others, you can just go to the next page to see how the Shanling ME800 performs.
Six driver Hybrid Construction + new special diaphragms
Like the ME700, the Shanling ME800 enjoys a hybrid configuration, matching balanced armatures drivers for the mids and highs, with a dynamic one for the lows. But if the previous model boasted a gold-plated diaphragm dynamic driver, the new ones switched for a "brand-new crystal-plated bio-diaphragm".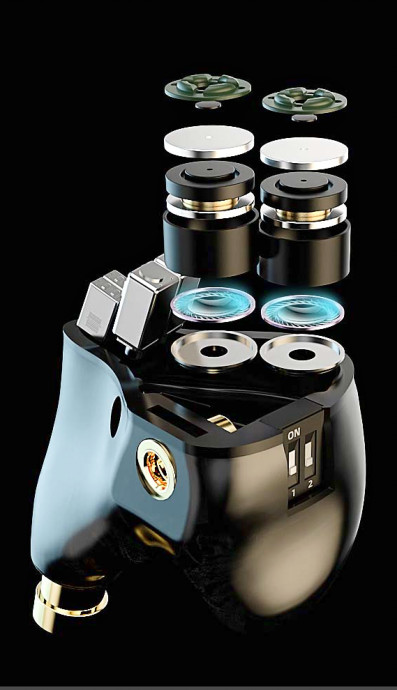 And yes, I wrote oneS and not one, because the ME800 is equipped with two – 6mm wide – woofers, instead of one. Like a 5.2 configuration in a home-theater, sometimes it's better/easier to fit two small subwoofers than one big, for both practical, and technical reasons. 
Add to that a pair of custom balanced armatures for "full-bodied" midrange, plus a dual-chamber one for "airy and crisp" highs, and you get a very competent IEM on paper. A clever arrangement, that reminds me of the new FiiO FH9, equipped with even more drivers (6BA +1DD).
Variable signature and tuning
For the first time on a Shanling IEM, you can adapt the sound signature, according to your tastes. Ok, there are only 2 knobs available, for 4 different configurations, but that's still four times more choices available than usual!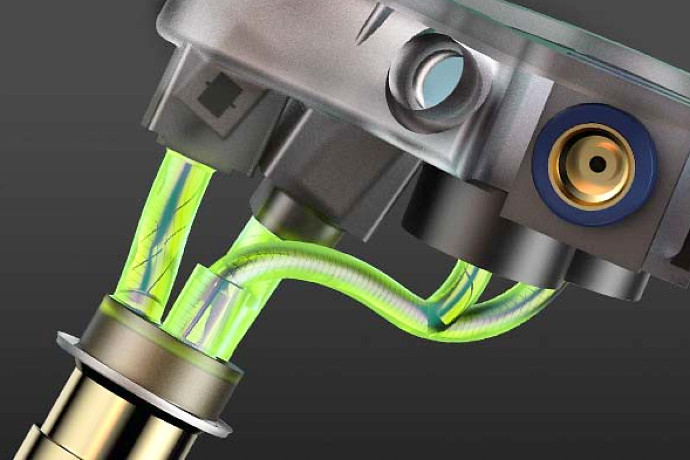 To do so, all you have to do is push up/down two little knobs located at the top of the IEM. Like the FiiO FA9 or BGVP DM8, doing so will directly affect the filter of the Shanling ME800, leading to more/less bass, and a recessed/boosted upper range.
How does that turn out? Let me give you a quick recap, directly quoted from the website:
Balanced: defaults tuning of ME800, most universal
Warm: adding bass and thicker mids for dense atmosphere
Vocal: more prominent vocals, to make the singers shine
Clear: dynamic and energetic sound, with the widest soundstage
If you check the sound signature, you can see that turning the "2" switch dramatically increases the highs, compared to your usual frequency chart. 
So let's plug them, and see how it goes.
Full specs
Type: IEM
Style: hybrid configuration with 4 BA and 2 DD 
Drivers: 2x custom BA for mids, dual BA for highs, 2x 6mm DD for the lows
Socket: MMCX
Cable: High-purity octa-core monocrystalline Furukawa cable, with interchangeable connectors
Shell: 3D printed resin, with German Egger Antibacterial Coating
Weight: 7g per ear
Frequency Response: 20Hz- 40kHz
Impedance: 16 ohms
Sensitivity: 112dB
Sound Isolation (up to): 30dB
Cable length: 130cm
Connectors: 3.5mm / 2.5mm / 4.4MM
The review continues on Page Five, after the click HERE or by using the jump below.
Page 1: About Shanling
Page 2: Design & Build Quality
Page 3: Comfort & Usage
Page 4: Specifications
Page 5: Tonality and conclusion