Yulong DA-ART Aurora – Sound
Signature
Let's start with Aurora's signature. If you have been following our reviews, you'd know that we have been testing ES9068AS units for more than a year now. It is a good, detail-oriented chip.
However, as with all electronics, there are many variables when it comes to real-world performance. The implementation, combining good hardware with well-done firmware, proper amplification, filtering, etc. Yulong's DA-ART Aurora's most important feature is its class A amp stage, no doubt there.
You get the full might of the A design, a whopping power output, and an overall warmer sound signature compared to NFCA or PLFC amplifiers that we've seen in this year's highlighted amplifiers.
The Aurora sounds warmer than neutral. It has a vivid, and dynamic character. It is not an overly saturated or tube-like sound though, don't get me wrong here, just think of an overall warmer signature compared to flat and reference devices that we've evaluated this year. Let's dissect the sound into a few sections and take a closer look.
Low
The Aurora is capable of delivering impactful, extended low end without bloating the signature. The bass texture is very good, it sounds rounded, clean, and well-nuanced. Quantity-wise, Yulong did a great job with the Aurora. It is not as bass-heavy as the xDuoo XA-10 for example but packs a big punch when the track calls for it.
It's versatile bass response plays well with a wide range of genres. As I mentioned before, the Aurora feels dynamic across the spectrum but it gets a big bonus from the bass region in this regard. It is not as fast as Topping's DX5 for example but it sounds more musical, smoother. The Aurora still carries the sonic detail and resolution while having a more easygoing bass response. I think that is quite nice, tuning-wise.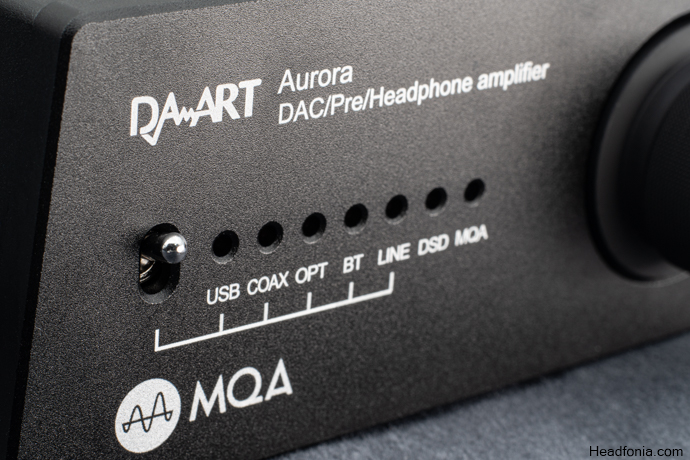 Mid
I think Aurora's most impressive region is the midrange. It sounds both refined and musical at the same time. The lower mids feel natural and they are on the thicker side of the scale but not overly so. Mid-dependant instruments sound wonderfully musical with a good amount of detail-retrieval.
The reproduction feels natural and dynamic, vocals sound vivid and alive. There is no aggressiveness or sharp peaks, even in the upper mid section. The upper mids are extended yet smooth, and stay under the sibilance threshold, offering a smooth yet detailed upper mid reproduction. Slight warmth in the tonality helps with the delicacy of the vocals, male vocals sound authoritative, strong, and full. Female vocals are clean and resolving.
High
The highs of the Aurora are not as prominent as some of the DAC & AMP combos from SMSL or Topping, yet they deliver a good amount of clarity and extension. The treble is not hot or sizzling by any means, it is very controlled and delicate.
It does not feel closed-in. It is more extended and sounds cleaner than xDuoo XA-10 yet it is not as resolving as the DX5 or the EX5. The difference between these DACs is not big, in fact, right now, we are more hardware limited than ever. If you are switching from an older device, you are more than likely to be happy with either of these options.
Back to the treble, overall, you get a very controlled, adequately spacious treble with good energy. The Aurora feels coherent across the spectrum.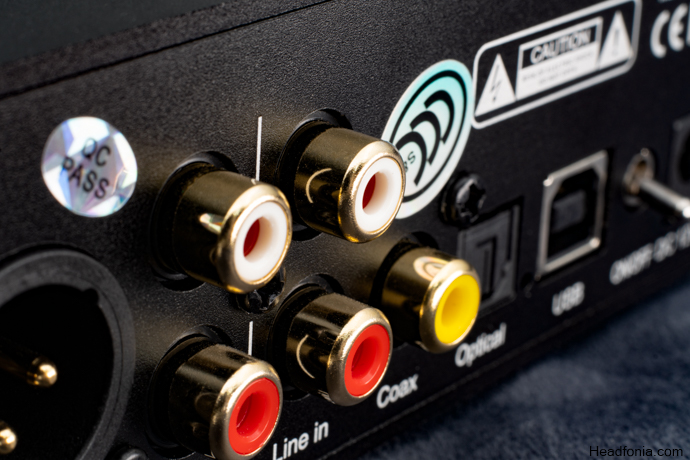 Technical Performance
Aurora's tonal warmth is originating from the midrange. However, as I mentioned before, this warmth does not saturate the presentation to the point that it undermines the realistic reproduction of instruments and vocals.
It actually improves the dynamism and musicality instead. The Aurora does not have a very deep stage but the width and instrument separation is good so you get a full, coherent stage projection. The instruments have adequate air between them and they are easy to track individually. As I also mentioned before, the Aurora exchanges some of the agility for smoothness but it is not a bad performer in this regard. 
Aurora's strong suit is the smooth and fairly detailed presentation. You get a clean, musical, and smooth reproduction and it feels natural when combined with a headphone that has a balanced signature. The Aurora plays well with my DEVA, 660S, and modded 58X. It does not nit-pick headphones or IEMs, but beware of using sensitive (<10Ω) in-ear monitors with the balanced out.
Comparisons
SMSL DO100 & SMSL HO100 ($388 USD)
The SMSL DO100 & HO100 combo is the new budget stack that SMSL offer. I/O-wise the DO100 offers almost as many options as the Aurora with the exclusion of RCA line-ins. Additionally, the DO100 comes with a Bluetooth module that features Sony's LDAC codec.
Let's move on to the sound differences. First of all, the SMSL stack sounds slightly more neutral with more energetic upper mid, and treble regions. The Aurora has a more musical approach with a more vivid presentation. The mid-dependant instruments have a bolder note-weight on the Aurora.
The SMSL stack has a slightly deeper stage but the width is similar. Both of the devices are similar in terms of resolution and clarity but the SMSL stack sounds slightly more resolving with its slightly more spacious treble.
Power-wise, the SMSL HO100 catches up with Aurora's single-ended power but it is no match when it comes to balanced. The Aurora has marginally more juice out of the BAL ports. The stack review will be published soon on Headfonia so stay tuned!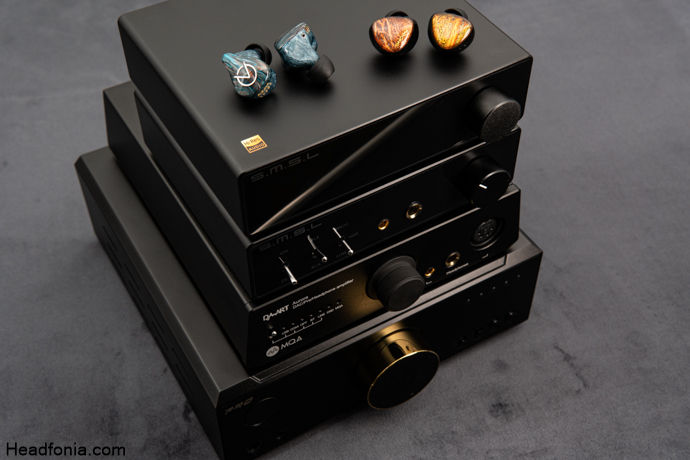 FiiO K9 Pro ESS ($849 USD)
FiiO's latest flagship desktop DAC & AMP combo, K9 Pro ESS is an impressive device. It comes at a premium but it is designed in a way that it does not saturate or manipulate the signatures of your equipment. It offers excellent tonal balance, excellent resolution, and technical capability while doing so.
Comparing it to the Aurora is hardly fair, due to the price difference but it is beneficial to see how big (or not) difference there is between the devices. The K9 Pro ESS' resolution, stage width, and depth are impressive. It has precise and accurate imaging, layering, and instrument positioning. Compared to the Aurora, the stage feels more defined, with ample air between the instruments.
The upper midrange and treble regions feel more energetic and resolving compared to the Aurora. The Aurora excels at musical delivery and is more forgiving when it comes to badly mastered tracks. The K9 does its best to reflect these problematic passages or mastering errors to you, without any forgiveness and that can be tiring for some people. If you are after the absolute balance across the spectrum, the K9 fulfills that wish.
If you want an easygoing, smoother source with a more forgiving nature, the Aurora is your bet. There is no day and night difference between these two devices so signature and price are what you should be looking at.
Last Words
The Aurora is a powerful, versatile DAC & AMP that managed to impress me with its smooth and musical delivery. In addition to that, it manages to stay clean and fairly resolving too, and that is not an easy tuning to achieve.
It appears that Yulong did their homework right and combined the performance of ESS's latest chip with their Class A know-how to create the DA-ART line-up. Make sure to try the Aurora if you are in the market for a powerful and versatile DAC & AMP.
Page 1: YULONG, DA-ART Aurora, Packaging & Accessories, Design & Build Quality, Power
Page 2: Sound, Signature, Low, Mid, High, Technical Capability, Comparisons, Last Words