The $650 USD ATH-WP900 is the latest flagship portable headphone from Japanese manufacturer Audio Technica.
The ATH-WP900 comes in for review hot on the heels of its full-size stablemates, the ATH-AWKT and the ATH-AWAS. You can check out our other Audio Technica reviews here.   
Note: Our thanks go out to Alena at Audio Technica Australia who organised to have a sample of the ATH-WP900 sent out our way for review. We appreciate the support, as always.
First-class carry-on
What sort of headphones would you pack if you could only take one solitary pair with you for an unknown length of time on a desert island? The old 'desert island' quandary is a nice way to make you stop and think about what the ideal characteristics of a pair of headphones are. When push comes to shove, ultimately I'd be looking to pack a pair of cans that are a) comfortable, b) reasonably portable, c) easy to drive, and of course – d) killer sounding. Audio Technica has gone and made a hot contender for the desert island survivalist's ultimate audio companion with the release of their new ATH-WP900, their flagship on-the-go over-ear model which is available now for a not-inconsiderable but still (reasonably) attainable $650 USD.
I've had the pleasure of reviewing Audio Technica's two newest line-up topping full-size close-backs already this year in the form of the 'Kokutan' ATH-AWKT and the 'Asada Zsakura' ATH-AWAS. The latter proved to be more of a hit with this particular reviewer's ears despite its lower price tag ($1,399 USD vs $1,899 USD), thanks to its more engaging, richer timbre. Having been impressed by both headphones in terms of both their build and technical prowess, I was naturally keen to see what sort of 'trickle-down' abilities would find their way into the diminutive portable-oriented WP900, but also managing my own expectation in advance, as surely certain corners must be cut in order to be able to fit the WP900 into your carry-on luggage…right?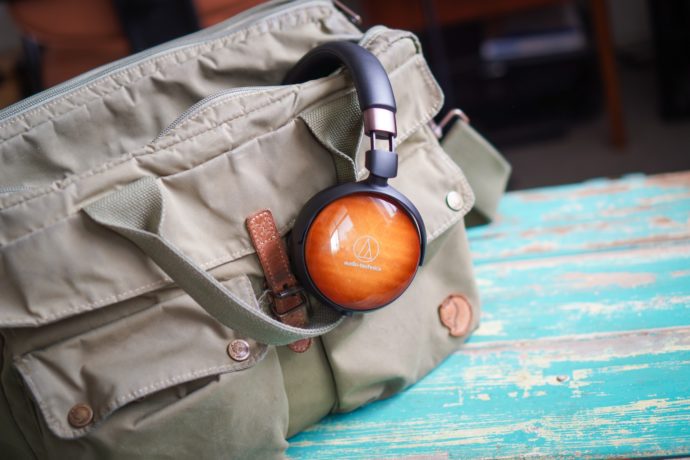 It's a little ironic to be reviewing a pair of portable headphones at a time when there's not much…um…porting(?) going on these days thanks to a little bug known as COVID-19. This time last year, I had already racked up around 75-odd flights between work and personal travel, and a dedicated pair of high-end on-the-go cans would have made a bunch of sense at the time. Travel complaints aside, any sense of 'compromise' in the new ATH-WP900 (let's just go with WP900 here on in) was quickly dispelled soon after taking these lightweight beauties out of the box. Not only do we have a contender for the ultimate portable headphones on our hands here from the legendary Japanese audio house, but perhaps a contender for the most all-round, versatile headphones going around. Desert island headphones indeed? Let's find out.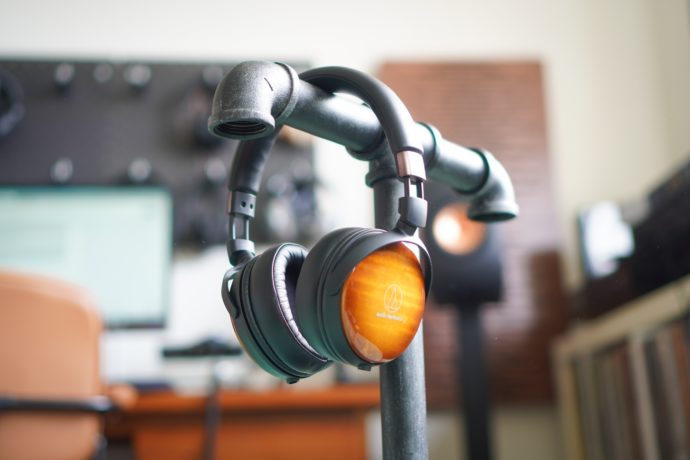 ATH-WP900 overview
The WP900 is a lightweight, over-ear pair of closed-back headphones, featuring a pair of all-new carbon-coated 53mm drivers with an impedance of 38 ohms and a sensitivity of 100 dB/mW. Each WP900 is handmade by individual craftsmen at Audio Technica Japan, and their pièce de résistance in the aesthetics stakes being their signature wooden earcups featuring a flame maple finish, provided by Japanese guitar manufacturer Fujigen. As a guitar player myself, they really are reminiscent of a sunburst maple guitar-body finish and look a million bucks in the flesh. The WP900 is good-looking enough to court second glances from those nearby without looking flashy or ostentatious. They look artisan, for lack of a better word, and give you the distinct impression that their business is making music – of the analogue variety. 
To ensure the WP900 is as versatile as possible in portable use-cases, Audio Technica has equipped it with a pair of supplied detachable cables, each measuring 1.2 metres in length. One is a single-ended cable terminated in the ubiquitous 3.5mm jack, while in a nod to the future the other supplied cable is finished in a 4.4mm Pentaconn jack – the new balanced standard being adopted by the likes of Sony, Sennheiser as well as Audio Technica. I, for one, think that 4.4mm is both far more sturdy than 2.5mm balanced, and far more wieldy than 4-pin XLR. Hopefully, it becomes even more commonplace in the near future.  
Head over to page 2 to hear more about the ATH-WP900's build & comfort.