Sound performances
My main sources were the EarMen TR-AMP / SMSL DO200 + HO200 / Khadas Tea. Trusted sources from trusted brands that I used extensively for the past months.
As usual, files were played from either Apple Music / Spotify or my own music library. Some tracks will be highlighted, just so you can try them home too!
Overall signature
Last time, I've been blown away by the DT 700 Pro X, so of course, I expected at least as much from the BeyerDynamic DT 900 Pro X, with more "transparency" and "space.
All I said for the DT 700 Pro X remains relevant for the DT 900 Pro X: the dynamic range is insane, the sound pressure is majestic, and the linear sound signature leaves tons of room for audio professionals, as well as audiophiles like me, who like to tweak.
I tried lots of sources, from small DAP like the Hidizs AP-80 Pro X (review incoming) to pocket USB-Key DAC as the FiiO KA3, next to beefy systems like my Cayin iHA-6 + iDAC-6 duo, every time the DT 900 Pro X scaled up accordingly. Even compared to some planar, I found the Beyer more dynamic, more natural, and overall… better.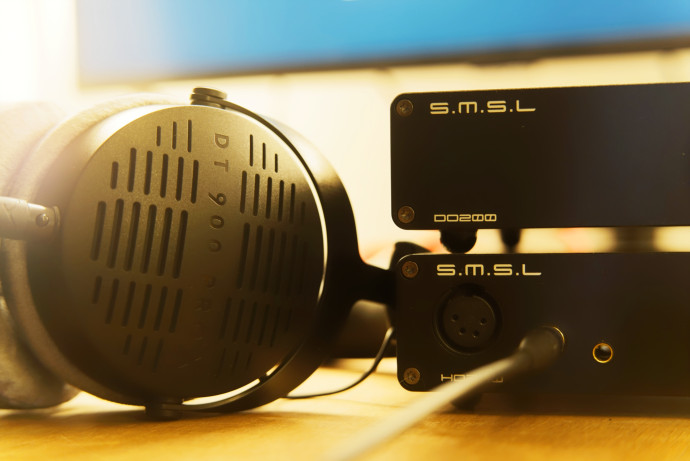 Powered with the ALO Audio Studio 6, which was fed with a Chord Hugo II, the difference between the DT700 and DT900 were easier to spot:
softer voices, especially in the high-mid range, where the closed-back version sounds more impactful
wider soundstage, when combined with Apple Music Atmos tracks, there's a real holographic potency,
sharper low-mids, with even shorter decay, which make the headphone sounds too fast sometimes
Everything else is, almost, identical… and that's a blessing.
The bass is simply insane. Not because of its prominence, but because of its depth, the headphones reach sub-bass levels with ease, without ever betraying their original signature. Head to head with the DT 700, the DT 900 feels slightly more natural, but the bass also seems more distant, and this was one of my favorite quirks on the closed-back.
Mids follow the same path, and I was shocked by how easy it got to understand some lyrics on my usual song when I had to push the volume on some higher-end headphones. There's no distortion, no false reverb, no gritty harshness, just pure music. ADSR is phenomenal and rarely have I ever heard transients this fast on a headphone, be it planar, dynamic, or even electrostatic.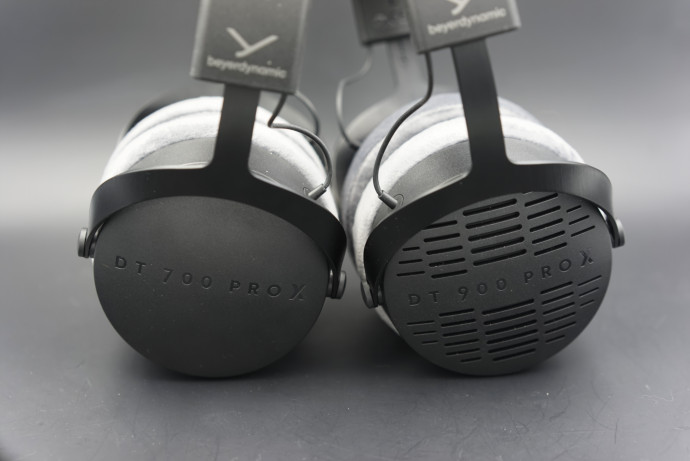 It's a studio headphone fore and foremost, but thanks to that, you'll be able to see your music in a completely new light: sometimes crude, sometimes dazzling, always true. On well-produced tracks like Places from Brace! Brace!, the headphone displays nicely controlled bass response and impact. 
For a 45mm wide driver, the result is compelling, helped by the tight seal offered by the closed-back, and techno-lovers, like me, might discover a passion for mastering and recording. Personally, I'd stick with the DT 700 Pro X, but I can easily understand why a producer or a sound engineer would go for the DT 900 Pro X:  the overlay is slightly better, and the softer midrange is more suitable for extended listening sessions.
Beyerdynamic being Beyerdynamic, those headphones are set for professional users: any badly recorded tracks, low bit-rate songs, or bad setup will immediately be heard. Add to that a baffling wide soundstage, and you have the perfect magnifier, for better and worse. It's a real thrill!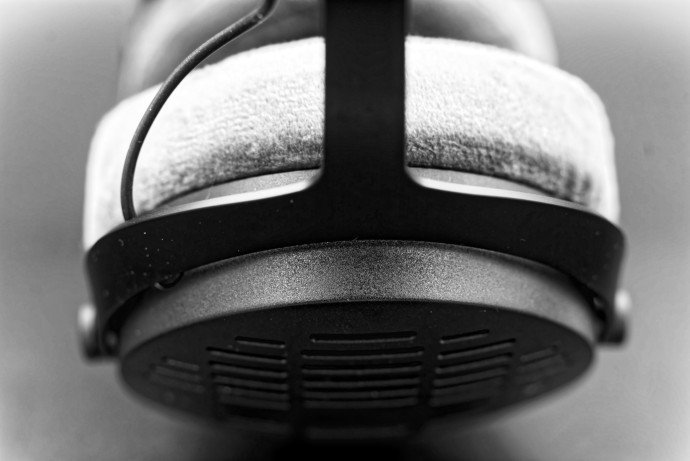 I didn't have the chance to try the DT 1990 Pro, but if those are a shoehorned version of the bigger ones, I'll have to order a pair very soon to complete my headphone collection. And yes, the DT 900 Pro X can't beat the Amiron in terms of resolution and clarity, but those are designed for Hi-Fi and not studio use.
Just pair a good DAC like the SMSL set, an RME soundcard or a DAP like the new Shanling M6 Pro 21, and you'll be set. It's simply awesome! (x2)
Tonality
Highs: clean, sharp and vibrant. High-frequencies extension is great, and voices sound exquisite on the Beyer.  This one is slightly forgiving, but rest assured that you might need to skim your playlist, as the previous statement remains: fidelity over fun.
Good test-track:  Mariella – Khruangbin / Leon Bridges
Mediums: wide, quick and powerful. As usual with Beyerdynamic, mids are superb and provide a good balance between vibrancy and accuracy. Voices, be it women or men, really benefit from the brand's field expertise, and even a seasoned audiophile might be surprised by what the DT 900 Pro X achieved here. Bonus point for the better/wider soundstage!
Good test-track: Plastic Love – Mariya Takeuchi
Bass: fast transients, quick kicks, deep lows, what's not to love.. Bass is the real feat here. Deep, well-defined, spacious, and the more you push, the more you're rewarded. It's deeply addictive, with powerful kicks and good definition from top to bottom, even more, if you can use a good source! 
Good test-track : Peur des filles – L'impératrice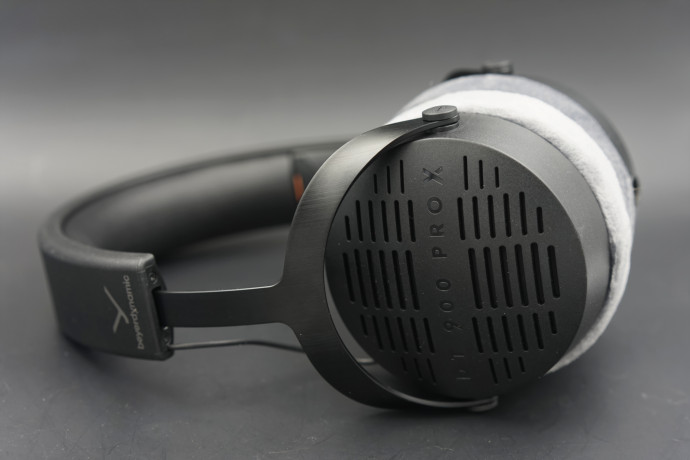 Conclusion
The Beyerdynamic DT 900 Pro X is a work of art, and a true bargain: for €249 you'll be hard-pressed to find anything better, or as accurate. Like the DT 700 Pro X, it ticks all the right boxes and redefines my vision of sub €300 headphones. The only flaw I can find with it is its main quality: open-back design. But otherwise, it's superb!
It's built like a tank, amazingly comfy, magically linear, sounds like a 4-digit headphones, and cut sounds like a champ. In fact, for this price, it's basically a steal and if I could write long, convoluted sentences about how magical it is, I'll just ask you to get off your desk and go listen to it at your closest audio shop. Now!
A must-have, once more! To the Recommended Buy list it goes!
Page 1: About the brand, design and build quality
Page 2: Bundle, specifications
Page 3: Sound Performances