In this article we review the $744 Burson Playmate 2.
The Playmate 2 is the latest incarnation of the all-in-one entry-level headphone amplifier, digital-to-analogue converter, and pre-amplifier from Australian audio brand Burson Audio, available now starting at $544 USD. This review unit has Burson's optional 'Vivid' op amps installed, retailing at $744 USD.
Note: Burson Audio sent a review unit of the Playmate 2 with Headfonia directly for this review. As always, our conclusions and thoughts are our own. A big thanks goes out to Burson Audio for their support.
Hifi, down under.
Burson Audio is one of only a handful of hifi manufacturers based out of Australia, and (aside from a couple of boutique IEM makers) and they might just be the only personal audio specialists hailing from this part of the world – about a nine-hour drive down the Hume Highway in Melbourne from Heafonia's Australian HQ up in Sydney. They've carved themselves a global reputation by making both excellent-sounding and excellently built gear over the years, their products all featuring a distinctly 'Burson' house aesthetic. Their signature industrial design took a significant 180-degree turn back in 2019 with the overhaul of their flagship 'Conductor' line-up of DAC/amplifier products, trading-in square metallic lines for a new finned 'Cool Case' which is both very, um, 'cool' to look at, and also functional in that the entire chassis acts as a heat-sink to dissipate the wasted energy not turned into sound, a typical by-product of an amplifier featuring Class-A topology. I had the pleasure of reviewing the Conductor 3 back in 2019, and let's just say that it absolutely floored me in terms of its looks, sound, and liveability. My desktop just hasn't been the same since I sent it back post-review.
A new Playmate model.
Burson's recently-retired entry-level range of gear: the Fun, Bang, Play, Swing, and Playmate models garnered a strong fan base thanks to their modularity – being extremely 'stack-able' due to their shared chassis foot-print – as well as offering terrific performance in their respective roles despite their small footprint. The first model to receive the 'cool case' update, borrowing the new Burson design language from the Conductor and Soloist range is the brand new Playmate 2: an all-in-one DAC, pre-amp, and Class-A headphone amplifier. Starting at $544 USD, the Playmate 2 can be upgraded with Burson's renowned 'Vivid' Op-amps (making the Playmate 2 an option for the audio 'tweakers' among you), which takes the asking price up to $744 USD. The Playmate 2 can also be ordered with Burson's new 'Cool Stand' which sits the Playmate 2 vertically on its side, meaning that it will take up even less desktop real-estate while further aiding heat dissipation from the chassis.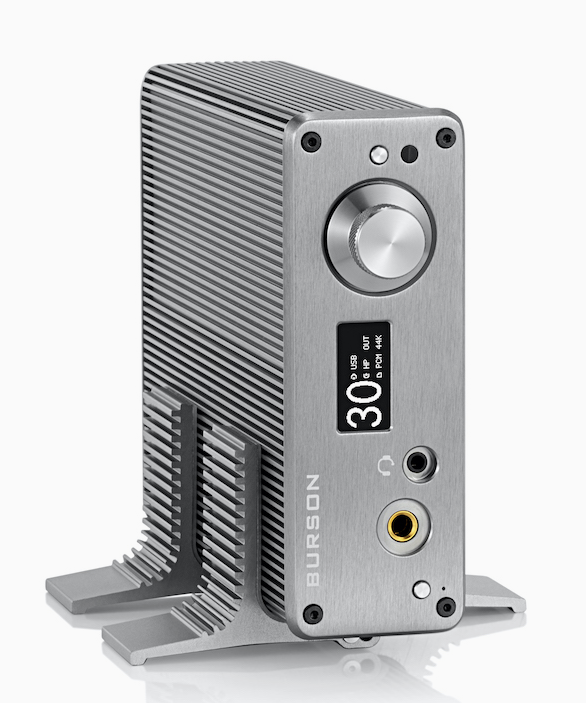 Burson has given more than simply a make-over to the Playmate 2 – they've given it the full internal do-over, beefing up the Class-A headphone stage to pump out a full 3.5 watts at 16 ohms, a considerable 2.5 watts at 32 ohms, and a respectable 150 milliwatts at 300 ohms. Digital duties are handled by the SABRE32/ESS9038Q2M DAC chip, with an Xmos USB input in addition to an optical digital input. Via USB, the Playmate 2 can decode PCM up to 32-bit/786 kHz and DSD natively up to DSD512. Full specs for the Playmate 2 can be viewed over at the product page on the Burson website. As well as being a headphone amp, the Playmate 2 also features variable RCA analogue outputs, meaning that it can act as a digital desktop pre-amp control unit upstream of active speakers or a power amplifier.
One feature that Burson audio equips many of their products with is the ability to accept a microphone input. This has meant that they've found themselves a particular niche with gaming audiophiles, as well as those who need to communicate over video conferencing between listening sessions – a very real productivity reality in this new age of remote-working. The Playmate 2 has two analogue outputs on the front panel – a full-size 6.3mm single-ended output, as well as a 3.5mm output which performs double duties as a microphone input. Burson ships the Playmate 2 with a 3.5mm TRRS splitter in addition to a microphone/headphone splitter cable, allowing you to simultaneously transmit via a microphone and receive audio through headphones.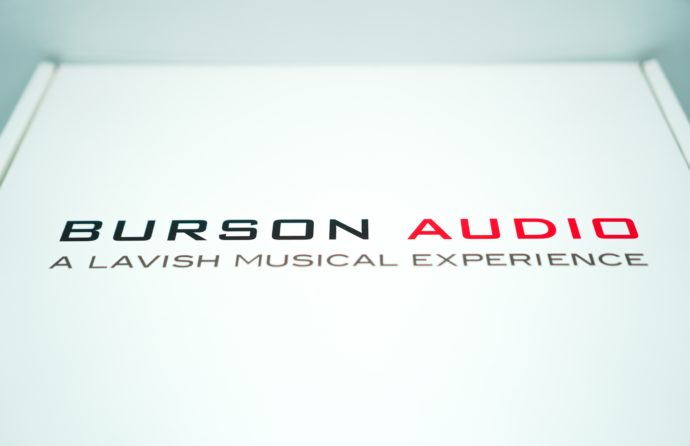 Packaging and presentation
Burson Audio's tagline, A Lavish Audio Experience, implies that they intend for their product line-up to impart a sense of luxury and decadence, and from my experience with their products over the years I can say that this is very much the case. While other manufacturers offer a somewhat spartan experience when it comes to packaging, opening up the Playmate 2's rather nice box gives you the sense that you're in for a treat with their new baby DAC/amp, which screams anything but 'entry level'. As well as the aforementioned headphone splitter connector and cables, Burson ships the Playmate 2 with a rather beefy 24V DC power supply, a hex key for opening up the chassis should you wish to tinker with the op-amps inside, plus a USB-C to USB-C cable – a sign of the times as the digital world is (thankfully) moving towards a more universal USB implementation. The Playmate 2's usability is greatly increased courtesy of the included remote control – a tiny aluminium number featuring four 'click' buttons for managing muting, input selection, and volume up/down respectively.
Design and build
The finned chassis of the Playmate 2, like its older brethren, is extremely striking in the flesh and it not only looks but feels terrific. Milled out of solid aluminium, this feels like one solidly built piece of gear and it hands-down takes the prize as the best-looking piece of desktop gear under a grand (in my opinion, naturally). Weighing in at 3kg, the Playmate 2 takes up about as much room on your desk as a medium-sized paperback. Considering that this little guy can do just about anything in an all-digital system that's pretty handy indeed. Not that you'll mind its presence, it looks absolutely sensational – Burson really has made quite the 'statement' piece with its newest (and smallest) DAC/amp.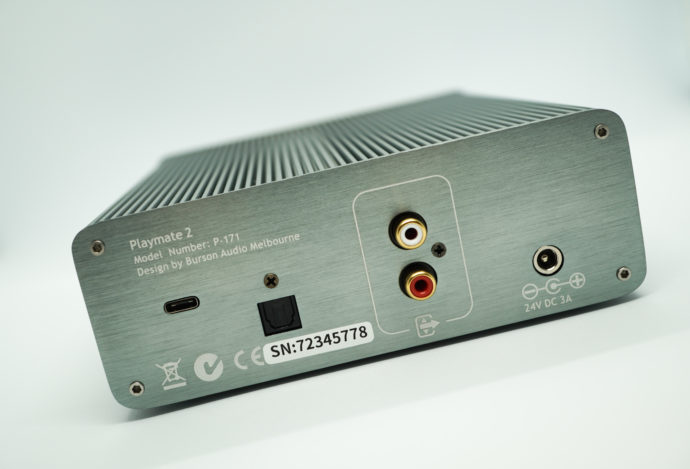 The rear of the unit is a fairly uncluttered affair, featuring the USB-C and optical digital inputs, RCA outputs, and an input for the power supply. One item conspicuously missing from the Playmate 2 – and my single biggest disappointment with the device – is the lack of any analogue inputs. While the world is hurtling towards an increasingly digital audio future, if I'm looking to invest in an all-in-one device, then I certainly would like it to have analogue inputs for two reasons. Firstly, I, like many listeners still enjoy analogue sources! I'd like the option to be able to enjoy reaping the benefits of the Playmate 2's three-and-a-half watts of Class-A power while listening to my vinyl collection. Without re-routing via a complicated analogue-to-digital conversion workaround, sadly this isn't possible. Next, analogue input facilities mean that you aren't limited to the onboard DAC in your device. While Burson has packed the excellent ESS9038Q2M chip into the Playmate 2, there's no way of pairing it with a standalone DAC – meaning that you aren't able to upgrade it down the track or try it out with a different digital pairing. Burson has taken a punt that digital listeners looking for a clean, minimal device won't be perturbed by this, but I'm sure that there are some would-be owners who'd like the ability to change this up down the track, potentially limiting its ability to be 'future-proofed'.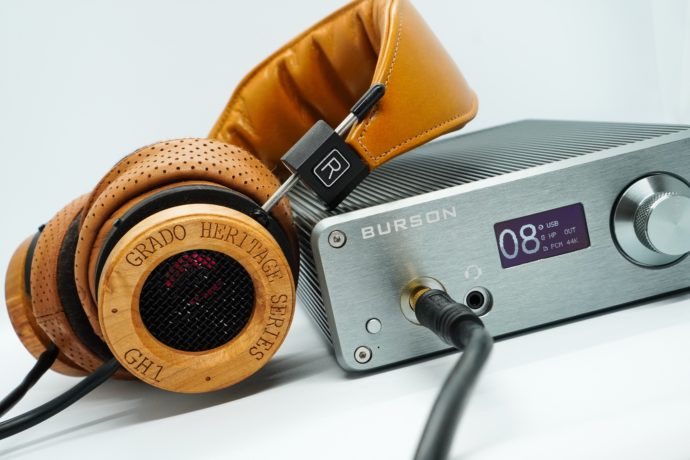 The Playmate 2 is strictly a single-ended device – those of you looking for a balanced headphone solution will need to step up to Burson's Soloist/Conductor line. Presumably, it has been designed this way to a) keep costs down, and b) to maintain some sense of hierarchy in the Burson catalogue. Unless you own a bunch of XLR or Pentaconn-equipped headphones, you shouldn't sweat over this as 3.5 Watts is more than enough to get most headphones singing, save perhaps the most stupidly inefficient planars – which both I and the majority of you don't have. And if you do, you're probably looking elsewhere anyhow.
In addition to the two analogue outputs (the 3.5mm one also being the previously-mentioned mic input), the front panel of the Playmate 2 also includes a small infra-red receiver window for the remote, a stepped volume-pot which also acts as the navigation for input selections in the menu, and a multi-function window which displays volume level, input selection, output selection, as well as the PCM/DSD sampling rate.
Click over to page 2 to continue the review.