Design & Build Quality
Shell 
Aesthetically, the Flare E-prototype lives up to its name: it looks and feels like… a prototype.
Compared to the FiiO FA7S, that I previously reviewed, the difference is quite striking. If the first was visually stunning, thanks to its stainless steel body, the E-Prototype isn't so appealing. In fact, out of the box, the Flare could be easily mistaken for an ear-aid, instead of an earphone, due to its pale-gray color and PLA-made shell.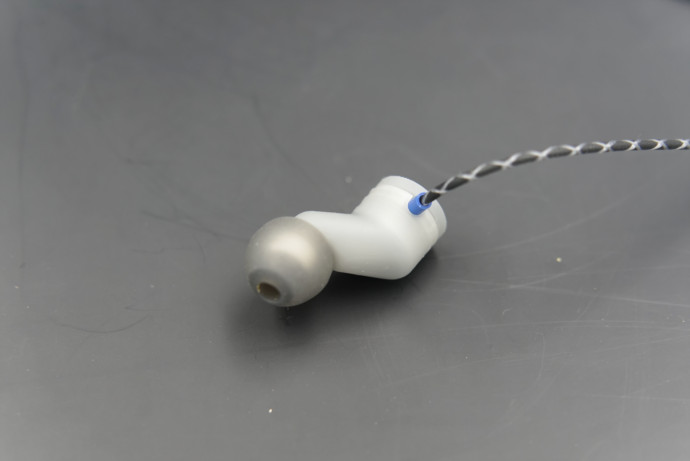 But, as advertised in the name, this IEM is, first and foremost, a prototype. And for one, I have to admit that Flare did a pretty good job, even more from a 3D printer hobbyist – which I am. Each earpiece is made from a bio-compatible non-toxic polymer and if lightweight, the E-Prototype withstood my daily travels without any hassle. Again, those shells are reasonably long, but as we'll see later, the shape makes them surprisingly easy to fit otherwise.
A quirky but very interesting design.
Build quality
Surprisingly, the Flare E-Prototype build quality is pretty good. It's an open-back IEM, with a convoluted shape, due to the USQ technology.
If not replaceable, the built-in cable is covered by a reinforced, tangle-free sheath, providing enough sturdiness for my daily commute. Of course, since the cable is directly wired to the driver, any bad movement or heavy strain could lead to a bad situation, but that didn't happen to me.
Being made of PLA resin, the case isn't as posh as your usual resin IEM – such as the FA9 – but the end result is quite sturdy and scratch-proof. My only real concern remains the open-back design, where dust could easily find its way, so you may have to blow a few times into that port.
An extra mark for the lid on the nozzle though, I never lost any ear tips, as that could be the case with other models, missing that simple, but clever feature. I'd be pretty curious to see the final version, but for now, let's say that for a prototype, it's more than decent!
Let's check how they fit in the ear.
Comfort
In the ear
At first, I was set back by the shape, but the Flare E-Prototype was surprisingly comfy.
Out of the box, I expected those ears to be a tad too big for my use. But, Flare did its class, and once fitted with the right eartips (small silicone for me) they completely filled my ear holes and didn't move over time. 
Okay, the whole design remains a bit weird especially once you wear them, but one the long run, the in-ear didn't give me any discomfort. Regarding the tips, I ended up with the medium-sized one, giving me a tight seal.
Compared to acrylic, semi-custom-shaped IEM, the Flare doesn't give you the same level of comfort, yet I'd give them a good 7 out of 10.
Isolation
Obviously, with a semi-custom design, isolation isn't the E-prototype forte. Even if, to my surprise, the design makes them a little more impervious to outside noises than I expected.
They performed well in noisy environments like the train and even managed to block human voices. That said, If someone were to talk relatively loud near you, you'll feel like a part of the discussion, music magnifying every word they could say. 
Still, it's much better than I expected: once you play your music at a moderate level, the IEM will be able to cover most unwanted noises. A closed-back version would be very impressive!
So, time to check the specs!
The review continues on Page Three, after the click HERE or by using the jump below. If you don't care about this, skip that part here.
Page 1: Flare overview
Page 2: Design & Build Quality, comfort, Isolation
Page 3: Specifications, Bundle
Page 4: Sound & Conclusion