This review is about the $2,490 USD Focal Arche flagship all-in-one headphone amplifier, DAC and preamplifier from French high-end audio manufacturer Focal. 
Note: Focal's Australian distributor Busisoft A.V kindly lent us the Arche for this review, along with Focal's Stellia and Clear. We appreciate the support and our thanks go out to them for the opportunity to share our impression with Headfonia readers.
Focal has designed the Arche from the ground-up to be paired with Focal's range audiophile range of headphones, including the Elear, Elegia, Clear, Stellia, and Utopia.
End-game, or Pandora's box?
The phrase end-game tends to get bandied-around in high-end audio, as it does in any sort of hobby requiring fans to follow a long, arduous upgrade-path in the (often fruitless) pursuit of ultimate performance and system synergy. While the notion of 'end-game' has become somewhat of a meme, French manufacturer Focal's name is often mentioned in the same breath when it comes to the quest for finding the 'Mecca' of headphone performance. And deservedly, too. Focal's flagship open-back headphone, the $4,000 USD Utopia is an absolute masterclass in detail, resolution, and refinement and occupies rarified air, frequently appearing atop many 'World's Best' lists. The Utopia's closed-back counterpart, the (relatively) less expensive $3,000 Stellia trades an open-air experience for a sense of cozy, closed-in opulence but still manages to deliver velvet sledgehammer-like dynamic performance as I found out in my review earlier this year.  
"So," you might ask themselves after deciding to take the plunge on one of the crème de la crème of the Focal lineup. "What gear am I going to have to find to pair these with?". And herein lies quite the conundrum – there are near-infinite options when it comes to combining of upstream source and amplification gear. The 'right' combination means finding not only the best sounding pairing for your headphones and listening preferences but also finding the right form-factor in terms of your personal space and system requirements. And that's not the only dilemma – collecting and swapping separate units can rack-up not only desktop space but perhaps ultimately more expense in the long-run while hunting for 'perfection'.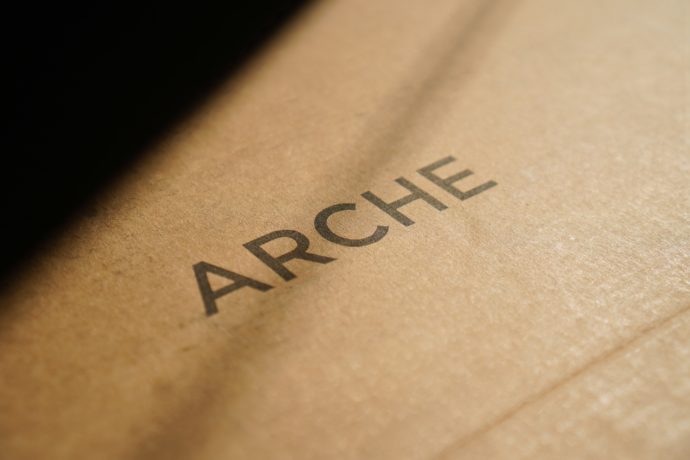 It seems that the team at Focal must have thought that the idea of all that searching is a bit messy, and a bit unnecessary, as they decided to go and create their first-ever headphone amplifier and DAC to pair with their range of "At home" audiophile headphones. And Focal didn't just dip their toes into the water, so to speak – they went nuclear. The 'Arche' is a $2,490 USD all-in-one DAC/amp/preamp, but that's really not doing it justice – Focal designed the Arche to be the only box you need to have on your desk, for a long-long time. 
So what exactly do we have on our hands? Under the hood, the Arche is a dual-mono balanced headphone amplifier delivering one whole watt of pure Class-A power into each channel to drive headphones via its 4-pin XLR and 6.3mm jacks. In the digital domain, the Arche packs not one, but two of the proven AK4490 DAC chips into each channel's signal path allowing it to decode PCM up to up to 384kHz, as well as DSD 256. The fun doesn't stop there, as the Arche can perform pre-amplification duties as well via a pair of XLR and RCA variable outputs. So while this already sounds like a more-than-capable device, we haven't yet discussed the Arche's two signature features that give it its audible and cosmetic 'flair'. 
Firstly, the Arche's Class-A amplifier is able to be configured between different settings including 'voltage' mode, a 'hybrid' current/voltage mode, and most interestingly for us – unique presets for each of Focal's high-end headphones. And then lastly, there's an inspired design flourish that sits atop the Arche (and presumably where it derives its name from): a built-in headphone stand that is a perfect fit for the curve of Focal headphones' headbands, and also a very clever interpretation of Focal's logo.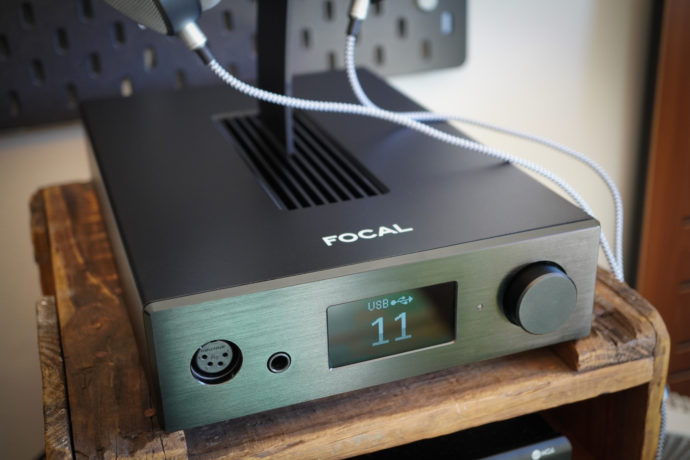 Let's not beat around the bush – $2,490 USD is no small chunk-of-change, especially when this investment needs to be considered on top of an already wallet-lightening pair of Focal headphones. Putting aside separate components for the moment (due to the aforementioned reasons of system synergy and desktop space) there's also some pretty stiff competition at this price from the likes of Burson's recent Conductor line, and even the renowned Hugo 2. I was keen to understand whether the Arche has what it takes to provide top-of-the-line performance not only through the lens of the prospective/current Focal headphone owner but also in terms of practicality and form-factor – if you're considering this as the last box you're going to put on your desk, it had better be nice to live with…right? 
And lastly, audiophiles tend to be a bit like magpies in terms of collecting new gear, and so the Focal owner is likely to have headphones from other brands in their stable at some point. As a potential 'end-game' headphone solution, I'm sure Headfonia readers are curious to hear how the Arche performs in terms of versatility with other types of headphones besides Focal.
Head over to page 2 to read more.