In this review, we take a look at the iFi Audio GO blu, a Bluetooth DAC/Amplifier selling for $199 USD.
Disclaimer: the iFi Audio GO blu was sent to us, free of charge, by the brand directly, in exchange for our honest opinion. 
About iFi Audio
Subsidiary of the AMR group (Abbingdon Music Research Group) –  a massive audio equipment manufacturers in the UK –  iFi Audio produces several DACs and amplifiers, as well as other accessories for computer & home audio, they provided us lots of interesting devices. 
Back in 2021, during a Hong Kong fair, I had the chance to meet the team and was already impressed by how well their first products performed. Fast-forward to 2021 and iFi is now one of the most popular hi-fi brands on the market, with bestsellers like the ZEN Blue, ZEN CAN, Hip-DAC, the NEO iDSD, or the Zen Stream.
In fact, most of them ended in our recommendation list, thanks to their great price/quality ratio. And, it seems like their new iFi GO blu follows the same path, or so I hope. 
Let's see.
iFi's Portable Audio Range
As usual, we'll get a quick look at the brand product range. Not all of them, of course, but the most recent one.
iFi Audio Hip-Dac (2)
The iFi Audio Hip-Dac is a compact USB DAC/Amplifier, embedding the usual Burr-Brown DAC and packing enough power to drive hungry headphones, for just under €150. A good alternative to the FiiO Q3 and AudioQuest's Dragonfly Red.
Small but mighty, the Hip-Dac is able to output [email protected] through its 4.4mm Pentaconn port and support high-resolution PCM, DSD, and even MQA. A great amp that Berkhan already listened to, and liked, so here is an excerpt of his review:
The iFi Hip-Dac has only one goal; improving your sound quality compared to the direct outputs of laptops and smartphones. After the time I've had with this device, I can smoothly say that it reaches that goal perfectly. (…) So for just $149, you get a very natural, uncolored, and slightly warm sound with forward mids. Technicalities-wise the device is excellent with great resolution, transparency, and separation. 
iFi Audio Zen NEO iDSD
The iFi Audio NEO iDSD is a desktop DAC/Amp that fancies all the latest innovations from the brand. If not as powerful as the iDSD Pro, the NEO packs a lot of new features like PureWave topology, TDK capacitors, and new advanced GMT femto-precision clocks.
I had the chance to get one unit a few months ago and was surprised by its versatility, especially when connected to a game console, replacing my Audeze Mobius as my "silent" solution.
For good measure, here's Berkhan's review:
The iFi Audio NEO iDSD is a hell of a unit. It is an excellent performer with a premium build, design, and internal components. It's also very versatile with outputs and features. It covers every possible usage scenario, and in terms of sound performance, it's also excellent with a neutral approach that allows you to add the signature of your speakers/headphones.
iFi Audio GO blu
Finally, here comes the iFi Audio GO blu, an HD Bluetooth DAC made to enjoy Apple Music, Spotify, or every song on the GO! It's a very compact device, competing directly against FiiO's BTR5 or on a broader scale, every TWS, but sometimes, you just want to get a small, wireless source for your IEM.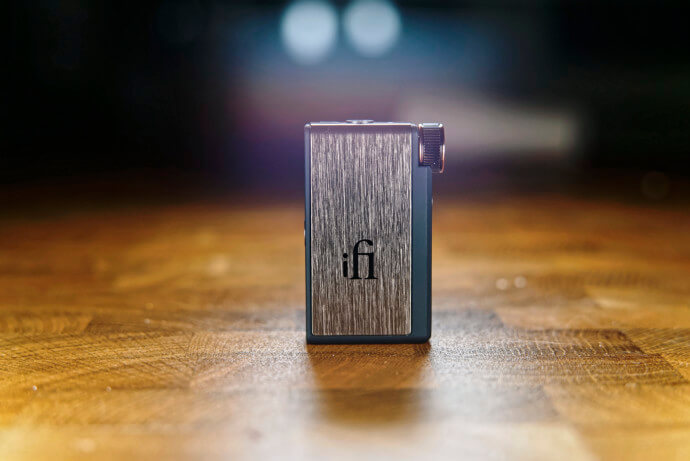 Time to check if it fits the need.
The review continues on Page Two, after the click HERE or by using the jump below.
Page 1: iFi, iFi Products, GO blu
Page 2: Design & Build Quality
Page 3: UI & Usage
Page 4: Specifications
Page 5: Sound performances