Today we're checking out the very new Meze Audio 109 Pro dynamic headphones. It's selling for $799 USD.
Disclaimer: The Meze Audio 109 Pro was sent to us directly from Meze Audio. The review reflects my honest opinion.
Meze Audio
Meze Audio has become famous and big over the last few years, They have top-quality sound, great build quality and budget-friendly gear for the majority. If you haven't heard about them then you can read their "About us" on their website, right here.
The Meze Audio units have won awards all over the world and that doesn't come as any surprise, as a lot of people seem to love the Meze creations. On top of that, the Meze team is always friendly, they know what they're talking about and they're just really nice people to communicate with. It's one of the nicest companies in audio for sure.
We have reviewed many of Meze's products here on Headfonia, and you can find all of those reviews here. We had the worldwide scoop of their ELITE headphone, and you can also find that review here: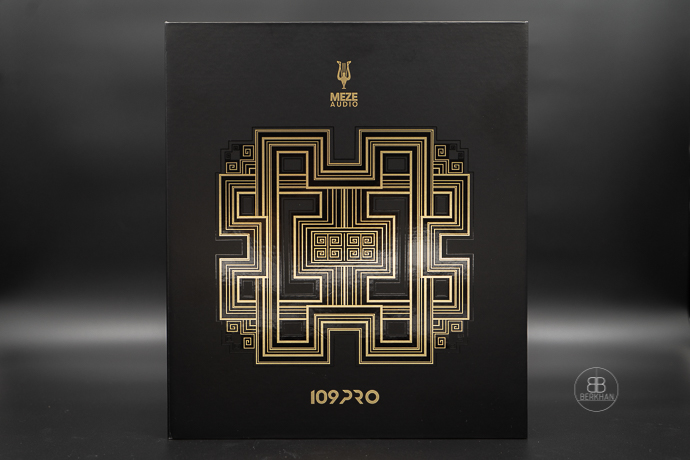 Meze Audio 109 Pro
The new Meze Audio 109 Pro is the new dynamic driver headphone from Romania, and it's the first open-back dynamic from the brand. The dynamic driver has a 50mm diameter with a 40 Ω impedance.
109 Pro is made from high-quality, premium materials throughout, including black walnut wood for the cups, copper-zinc alloy for the diaphragm, manganese steel and vegan leather for the rest of the headphones. The dynamic driver consists of a combination of Beryllium-coated polymer, cellulose-carbon fibre composite and copper-zinc alloy.
"109 PRO is a demonstration of our commitment to go beyond the faithful reproduction of sound to deliver pure emotion."
Packaging
The new Meze headphone arrives in a square box, with a gorgeous geometric symbol on top again. The presentation is classic Meze, with black dominating the package with golden accents.
Inside you're greeted with a very stylish and cool-looking carrying case that stores the headphone. When you open this zipper case you have the 109 Pro and a leather pouch. You have one long and one short 3.5mm cable inside that one.

Design & Build Quality
It's very hard to nitpick about build or design when it comes to Meze Audio products. Their headphone creations are simply fantastic, and the 109 Pro follows a similar design language to their 99 Classics headphones, which we reviewed 6 years ago here. 109 Pro looks even more impressive with spider design earcups together with walnut wood.
The headphone's design has a very impressive yet elegant harmony, with a luxurious touch in every part. Meze Audio surely nails the design part with every release. They're exceptional in that regard. It's safe to say that the new 109 Pro is a gorgeous-looking piece of product.
The build with the new 109 Pro is excellent too. All the parts have great robustness and the overall assembly is perfect. It's also very flexible so you can be quite sure that it'll survive for many years. And if you know Meze Audio, you'd know that they make their headphones sustainable, which means that every part is easily replaceable if something happens.
The cable has a 3.5mm connection to the headphone, and it sits tight. That also makes it easy for aftermarket cable rolling, if you're into that sort of thing with your headphones.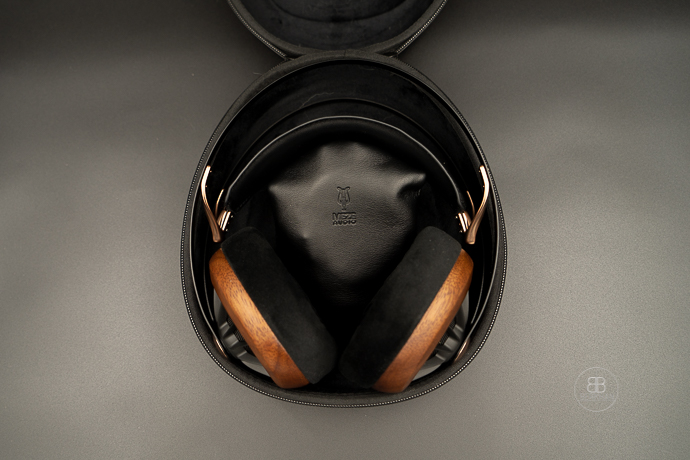 Comfort
I found the 109 Pro quite comfortable, despite its rather small earcups. I'm usually more comfortable with larger earcups like the ones in the HD 800 S, but when you wear the 109 Pro it wraps around your head nicely with just enough clamping force, not too much. And the earcups frame your ears nicely without any discomfort.
And as you know, one of the biggest advantages of dynamic earphones is their weight. The 109 Pro is reasonably light so even if you listen to music for long periods, it's not bothering at all. The best part though is the headband design. You don't do any adjustments to the headband. When you put on the headphones it slides itself to the best position.
Also, the shape of the headband is very well balanced, so the force you feel on the top of your head is evenly distributed. Many headphones put pressure on your head only from the tip, but the 109 Pro's headband wraps your head on top so the whole pressure is not on the tip of your head but rather on the whole top.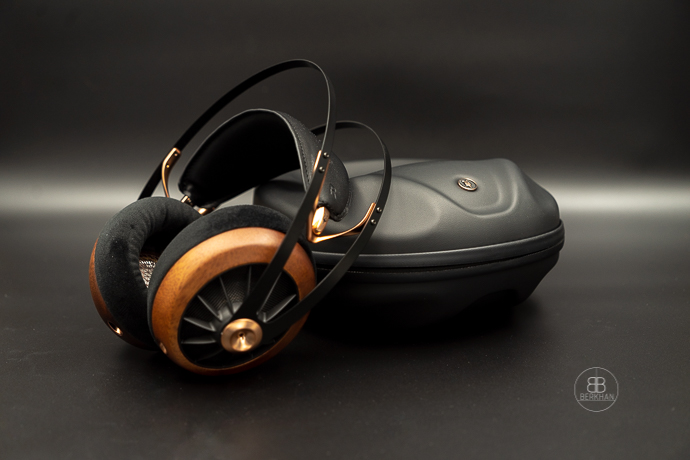 The earpads are velour, and they are not too soft. It's a measure to prevent your ears from touching the driver, as it's not a very deep earcup/driver design. But I didn't find it uncomfortable at all. While the isolation is almost non-existent -understandable for an open-back- you still get a tiny bit of isolation when you put them on.