Today we share with you the review of the $156 priced Noble Falcon TWS IEM.
[responsivevoice_button]
Disclaimer: The Noble Falcon was provided directly by Noble Audio. This review reflects my honest opinion as always.
Intro
Each day, we see new TWS IEMs in the market and I admit, the mainstream audience is very much into this thing. However, the real question for us remains; are they good enough for the audiophiles?
I'm not sure how to answer this question to be honest. Not yet anyway. We can't deny the growth, the trend, and improving technology. Wireless is so popular nowadays that we have added Mr. Yagiz to the review team, just to cover hot wireless items. Now it however is my turn to review a TWS IEM for the first time so let's see how it goes.
About Noble Audio
If you're into portable audio on a high level, then it's impossible to not have heard of Noble Audio. Noble remains one of the most unique brands in this business, thanks to its incredible designs in terms of custom monitors. They make those with very different materials such as wood and carbon glass. These prestige designs to me are simply a work of art.
What I also like about Noble Audio is their product cycle. Their flagship products stay the same for quite a time when compared to other brands. This for me is good for their customers. When you buy a so-called flagship product and see another one is released 6 months later or even sooner, it doesn't feel good, is it?
The Moulton brothers manage the company; John and Jim. As you probably know, John is the notorious "Wizard" and he is responsible for those artistic and artful designs. I had a chance to meet his brother Jim at CanJam last year and he's a very nice person to chat with. He has a lovely family as well.
We have written lots of articles about Noble Audio products before. You can find them by clicking here.
About Falcon
So like I said in the intro, I'm not convinced about the TWS sound quality yet, and my skepticism is usually not easy to defeat. But the Noble Falcon TWS has something to say about that in the process. This is Noble Audio's first-ever attempt in the TWS field, and since I know a thing or two about Noble's track record, they in my opinion do have the potential to offer an audiophile-grade TWS IEM.
This IEM has been tuned by "the Wizard" himself and it features a 6mm Dual-layered Carbon Driver ("DLC") combined with a DSP processor inside. It utilizes the Qualcomm QCC3020 Bluetooth Audio SoC as well. It has BT 5.0 support together with SBC, AAC and AptX codecs. There's no support for LDAC or aptX HD though.
The Falcon also has "Qualcomm true wireless stereo plus", which is a simultaneous connection between the left and right earpieces for reduced latency.
Design
What would I say about the Falcon's design? Cool, I would simply say. Anybody who saw them was impressed by the first appearance. I always love the harmony of black and gray colors. In this case, the side buttons are gray (a blue-ish gray) with the famous Noble logo on top, and the shell is glossy black.
If you ask me what I love more than the black-gray combination, my answer would be the black-gray-white combination! And yes, the Falcon has that with the Noble brand name written in white color on top of the shell. So this is a very sporty and classy design and those colors are mixed up perfectly to me.
The case is very nice in terms of size. Noble made this case pocket friendly and you can throw it in your pocket or your bag to take it anywhere you want without hesitation.
Build Quality
The quality of the earpieces is very satisfying overall. I especially liked the sturdiness of the nozzles and the rest of the two-piece shell feels very very tough. The Falcon also has an IPX7 rating against moisture and water. This is a comforting spec since a lot of people -including myself- use these types of wireless gear while doing sports activities. I've been using it while running, lifting, and other activities. At one time I was under some rain in the middle of my running exercise on track and thankfully nothing happened.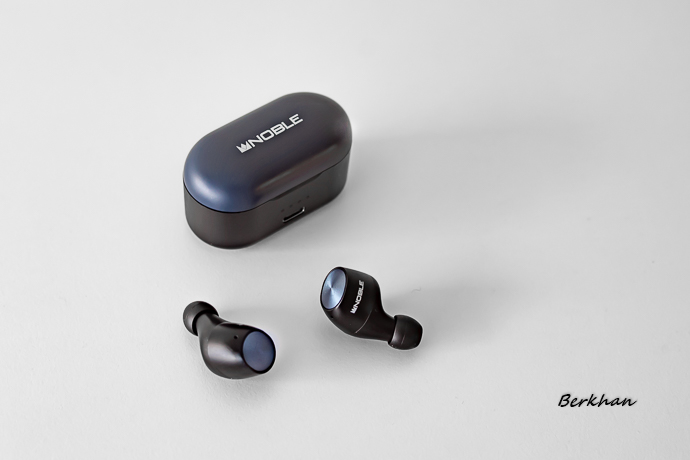 However, I didn't fully like the build quality of the case. The magnetic lid feels a bit flimsy, especially when you compare it to the quality of the earpieces. The lid could've been more solid with a tougher and thicker build like the rest of the case. Minus the lid, the design is very robust to me but the lid compromises the build quality in my opinion. Have I had any trouble with it? No, but it doesn't feel good compared to the rest of the design. I'm sure this can be improved in the future though.
The review continues on PAGE 2 with user experience.