Comparisons
I think most people are looking forward to learning how Hugo 2 compares to the original, and while I would love to tell you, I hate to say that you will be disappointed. Because I can not compare them, this part is left to Lieven, who has both units on hand and is burning to publish his review. I however can give you all a tiny bit of what you want. I am fortunate enough to be able to compare Hugo 2 to some other nice high end products such as the recently released Astell&Kern flagship player – the A&ultima SP1000 (what a weird name), but also to Hugo's little sibling Mojo.
Chord Electronics – Mojo
Both Hugo and Mojo feature almost the same digital inputs, with Hugo also having wireless apt-X Bluetooth added, for those who need it. I never used it since I am just not a fan of it. Mojo as well as Hugo have two headphone outputs, but H² also features a set of RCA outputs, so it's clear that it could be used as a desktop DAC as well.
Mojo also features a very resolving image yet Hugo 2 is undefeatable in this regard. Hugo has greater emotion and musicality in it. Hugo's soundstage and imaging is better. Both are tonally not so far apart, but Hugo 2 wins on emotions, dynamics and especially on micro detailing. The rendering of Hugo is the best I have heard yet from a portable device. The higher tapped DAC in Hugo 2 to me is more neutral and musical. Mojo though comes at a much affordable price and way more pocketfriendly formfactor. Add a Poly to Mojo and you will also gain remote control via smartphone, apt-X Bluetooth and micro SD card input. On top of that you will also get a Roon Ready network streamer and UPnP enabled device! Word on the street has it that there is also a Poly for Hugo 2 planned. I for one am looking forward to that a lot!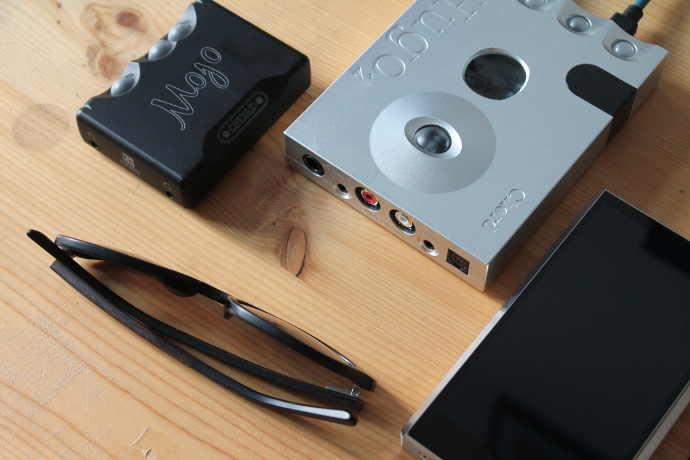 Astell&Kern – A&ultima SP1000
A lot of requests have also went to the battle of the new AK flagship and Hugo 2. While I don't really see them as competing products, many people appear to be torn between them.
The AK has the advantage of having internal storage to source files from, and thus not needing a digital transport to play music. Hugo 2 has more digital inputs, since the SP1000 only features an USB C port to be used as DAC. On the other hand it is also useable as a media renderer when using AK Connect (enabling UpnP function of the device). Giving it the upper hand on network streaming, for those who care about that.
Again, both have two headphone outputs, while the Chord only sports unbalanced sockets the AK goes the extra mile and features a 2.5mm balanced output. Though we have learned from John Franks in his interview that with FPGA's there is no need for them.
Sonically the AK is on front when it comes to dynamics. Both units have a very nicely balanced signature, with emphasized musicality and portions of warmth. Hugo for me clearly wins on resolution. While the AK definitely is no slouch in that area either, H² is without a doubt the king there. To me the SP1000 has a higher toe-tapping factor while the Hugo 2 still wows me more with instrumental placing, soundstaging and imaging.
Both units definitely are in the lead in their respective categories, but I couldn't pick one over the other. I love the possibility to have high end sound when I am travelling with my AK, and I love the fact that I can also have it in a transportable DAC at my office. It all comes down to what you need.
ALO Audio – Continental Dual Mono
Again, a few people have requested to compare both units to each other. And again, I don't necessarily see them as competing products. Yes, both are transportable DAC/Amps with outstanding sound, but one is a tube hybrid amplifier with DAC and the other is programmed gate array with desktop like digital inputs.
Hugo features dual coaxial, optical, micro USB and Bluetooth input, where CDM only gives you the option of micro USB and analogue input. Hugo is much more powerful with its driving capabilities and due to its nature a lot quieter than the valve tube Continental. Giving it the ability to not only drive demanding full sized headphones but also very sensitive in ear monitors without background noise. The left/right balance on lower volumes is also much better than with CDM, which needs to get to a certain volume before both channels are even. Sound wise Hugo is more resolving and neutral than CDM. ALO's flagship DAC/amp though is fuller and lusher in the mid section. It has a softer approach to music than the Hugo and is more likely to be enjoyed in a relaxing way. Hugo though will definitely keep surprising you with all that is in your music. Staging and imaging is more precise with the British audio goodie. Both units let you change sound a little, Hugo by switching filters and CDM by tube rolling. The American amp though does that more drastically to my experience. Sound changes are more apparent when exchanging tubes.
A certain bit of audiophile overkill is always welcome, so I have used the great lush tube sound to add more body to Hugo's sound and to make it a bit more relaxed and laid back. I connected Hugo 2 via 3.5mm out to my beloved and favourite amplifier. The result is incredible! You will lose some resolution but this is true full high end sound.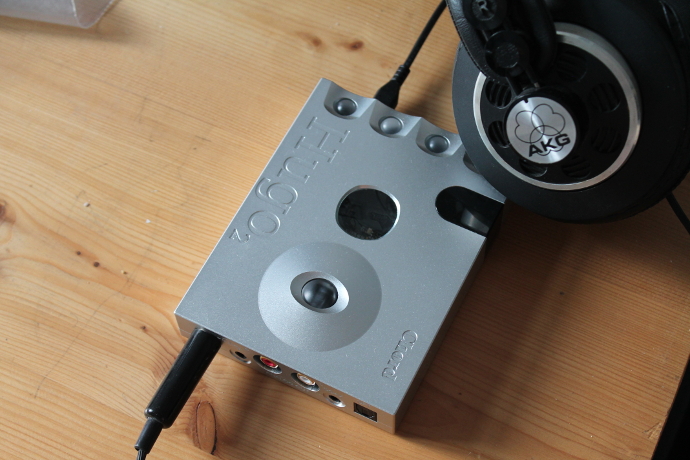 Driveability
As noted before, I have primarily used Hugo 2 with in ear monitors, such as my custom Kaiser Encore and K10, AAW's W900 or Katana. I have also used it with the Massdrop x Noble IEM which was sent to me by Noble many weeks ago. Hugo 2 of course has absolutely no problem driving those, and apart from Katana all of them are deadsilent when connected, the extended volume control also lets you enjoy your iems on low volumes.
Katana sounds very fast and energetic with the Chord. It has tons of micro details and a great deep bass response. What I love about Katana is that it is so incredibly accurate and precise with the best imaging I have heard. Even a tiny step above the Encore in my opinion. Katana also has a more reference tuned soundsignature, I'd call it analytical if it weren't so damn musical and retaining such great warmth. A custom Katana is coming over as I type, the universal has been with me for a while, so look out for a comperative review of Katana to other flagship CIEMs and IEMs soon!
Encore's bass is as good as ever, with great authority, texture and layering. Mids are wonderfully natural with good body and weight. Treble is airy, extended and smooth, well pronounced and in no way harsh or hot. Encore is a monitor that will get you to start moving on your chair, tapping your toes to the rhythm.
As mentioned I also used my K240 Sextett with Hugo 2, and I admit, it took a while to get used to the pairing, but after that I could enjoy my AKG like I didn't for a long time. Immersive bass, great detail and musicality. The vintage AKG is a great match with the Hugo 2, that I can tell you without a doubt. It has an unbelievable balance and neutrality to its tone, with insane details and wonderful body and low end extension. It can absolutely become an addictive pairing.
I have been using Hugo 2 also at home as my main DAC with my Linux PC setup. It has even replaced my Cayin iDAC6 because of the high capabilities of micro detail reproduction and the great imaging that goes with it. I have connected the RCA outs to my tube integrated amplifier, and together they form a detailed and lush sound. My humble bookshelf speakers have never sounded that convincing to me.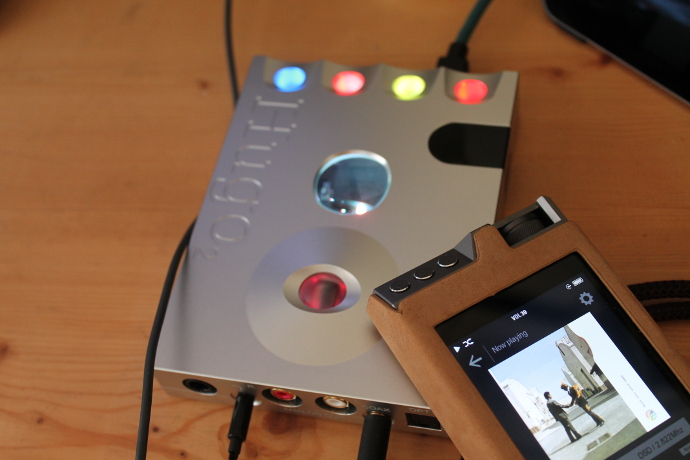 Conclusion
The original Hugo was regarded a landmark in portable audio, and I think it's offspring will follow the footsteps. You get real desktop class sound quality in a transportable package. It sounds really good with all ears and headphones I have used it with, and I am very much looking forward to trying out many more in the future.
If you are in the game for a high end DAC that appears to also be used on the go with your smartphone or DAP, the Hugo 2 is definitely worth serious consideration.
For the retail price of 2195$ Hugo² sure doesn't come cheap, and deciding if it's worth that much is completely up to you. I advice to listen to it on an extended run to come to a decision, but be warned, you might end up with a brand new Hugo.

The Hugo quickly won me over and has become my main DAC/amp at the office and my desktop DAC at home – it simply is that good. A recommended buy? How the hell could it not?!