Disclaimer: The Corda Quickstep was loaned to me by Mr. Meier himself when we met at Canjam Europe in Essen last year. Jan is a great guy and I always end up having nice talks with him and Fried from Violectric.
The Story
It's not the first time I've said this but the market has changed. In example five years ago, everyone was using double or triple stacks and carrying around external portable amplifiers was considered normal and logic. The last few years DAPs became more important and modern DAPs get stronger every day. The need for external amplifiers compared to a few years ago simply isn't there anymore as much as it was before. DAP suppliers like Fiio and Hifiman now even supply different kind of amp modules with different "strengths" to use in their DAPs. That being said there still is a market for portable amplifiers: some DAPs just simply need one as they're not powerful enough for the modern head/earphones, others just want to use their DAP as a source and another group just wants to drive full sized headphones directly from their portable setup. The market still is there, it just got smaller and in that situation, only the best gear survives.
I reviewed Jan's Daccord and Corda Classic quite some time ago already and while I personally wasn't too fond of their signature at that time, they are top quality amps. Last Canjam Europe, I stopped by Jan's booth and we were talking about and testing his new FF technology (very impressive and I can't wait to review it someday) when I saw the Corda Quickstep on his exhibition table. I recognized the amp from Rasmus Horn's ultra-portable iPod Nano + Quickstep setup (if I remember well) and I decided to give it a listen. I compared the PCSTEP (his lower level portable amp) to the Quickstep and decided to take the Quickstep home with me. I don't think an amp ever convinced me as quick as the Quickstep did (I couldn't help myself). In fact, I have been using this amp since late September and I really should apologize to Jan for being rather late with this review. The Corda Quickstep isn't new though and if I'm not mistaken, the Quickstep has been around since 2012. You won't find a lot of pages about in on the WWW though but a lot has been written about it on Head-Fi (page 130 and on).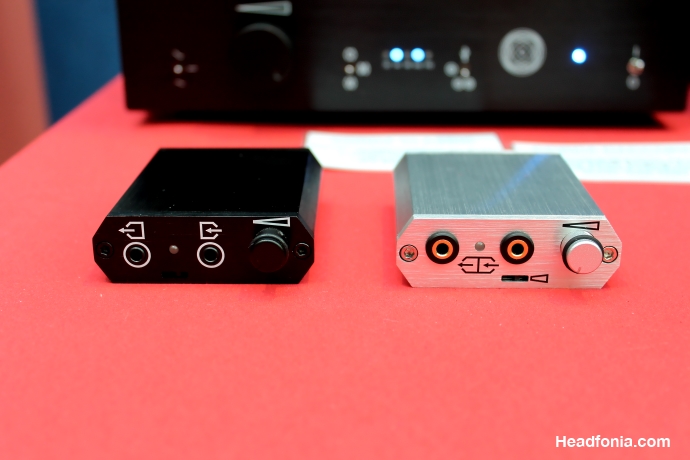 The Quickstep
According to Mr. Meier the Corda Quickstep is "simply one of the very best portable amplifiers on the market and it uses the concept of balanced ground and a discrete volume control. In addition it has an extensive RF-filter of the input-signal which makes it immune to RF-pollution caused by mobile headphones. It also has heavy-duty 3.5 mm sockets which strongly reduces contact-problems and increases reliability".
The Quickstep is a very simple but stylish portable amplifier and it design wise follows the typical Meier design. The aluminum Corda Quickstep is really small (8,8 x 6,6 x 2,2 cm) and it weighs only 115gr without the 9V battery. Combine it with a small DAP like the iPod Nano and you have a top quality super portable setup. Build quality, like all Meier amps, is great and Mr. Meier only works with the best of components. On the front of the amp you'll find both the 3.5mm input and output. Right in between is a blue LED that lets you know the amp is powered on. The plugs are sufficiently wide apart and plugging and unplugging cables is no issue at all. The tiny volume control is located on the right side of the front panel. The gain selector is located right below the 3.5mm Line In and it's placed a little bit deeper in to the casing so you don't accidentally switch to high gain. Flicking the switch to high/low gain can easily be done by using a pen though.
Click HERE or below to go to the next page