Headsound showed amongst others the JDSLabs CMoy and the iBasso DX50. I'm sure Mike will review this player later but I personally wasn't too convinced with the sound quality. Sure it looks great, has a touch screen, a better UI than the X3 and a full equalizer but still…
One of my favorite units at the show was this incredibly good sounding and looking Leben 300XS, too bad it's so expensive, I just can't get it out of my head.
A very interesting thing at the show was a software package however. The Spatial Sound Card App turns any PC into a surround system. I was really impressed, just like Valentin and we will be getting back to this for sure (together with the Beyerdynamic Headzone System) to explore the surround sound.
I have been trying for over a year now to get the Lehmann Amplifiers and  so I was very happy seeing them there. I hope I do get the samples this time! The pic below also shows how these amps suffer during a show. The Leben above was actually in a closed booth where only one at a time could go in, under supervision.
Finally I got to listen to the Fostex  TH-600 and TH-900 combined with the HP-A8C, and I have to say the 900 was one of the best closed headphones I've had the pleasure to listen to.
V-Moda was also there, even Val Kolton himself came to the show and their booth was always quite busy. Mike has another M100 review coming up soon. Violectric by Lake People was there with a pretty big booth and all of their gear. It was very interesting meeting Fried in person and I have a suspicion Violectric is a brand to look out for in 2014.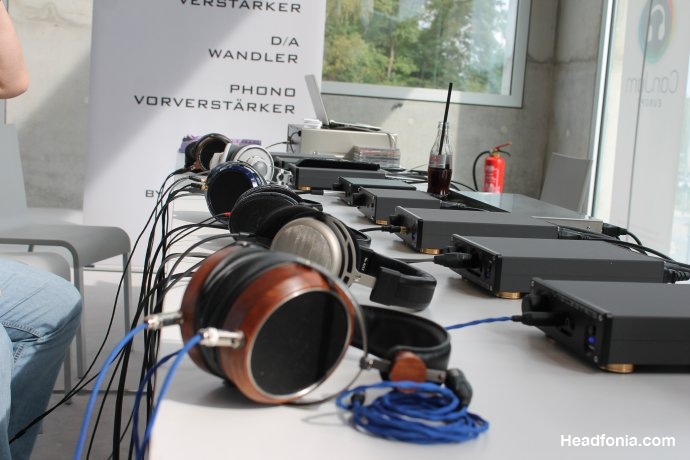 The most popular headphone stands were the Sieveking Omega ones, but these ones did lighten up the place for sure. I had a really great weekend and I'm looking forward to going again next year, if you love headphones it's an event you can not miss!