In this article we review the all new battery powered portable DAC/Amp from the Chinese brand, the FiiO Q11, priced at just €/$89 Euro/USD.
Disclaimer: The FiiO Q11 was sent to us, free of charge, by the brand in exchange for our honest opinion.
About FiiO
Established in 2007, FiiO has become a powerhouse in the audiophile realm, offering an impressive lineup of affordable and high-quality products. From IEMs, headphone amps, DACs, to DAPs, FiiO has consistently delivered top-notch devices, setting benchmarks for other brands to follow like the FiiO M11 Plus, the mighty FiiO Q7, or the everlasting E10K, which has remained on the market for over a decade.
But recently, the brand is going back to its roots, with a full line-up or affordable USB DAC/Amp – dongle-sized – directly echoing the old FiiO E5 and E3, and portable models, like the Q11 we are reviewing today. Sitting below the Q3 – which is now available in a MQA version – this model also introduces FiiO's new naming rules, where the first digit gives you the type of products (DAC, DAP, or earphone) and the second digit the range (from 1 to 9 as it appears).
So remains the question, with the profusion of dongle-sized USB/DACs available now, is there still room for a battery-powered one? With no wireless connection whatsoever? That's what will discover today, with our FiiO Q11 review.
A quick word about Jade audio
Once more, this new product fits in the brands Jade Audio sub-category. A sub-brand advertised as a new quality/price queen. But I'll let the brand's marketing team explain that for me:
"Jade Audio" is a subsidiary brand of FiiO Electronics Technology Co., LTD. It is a stylish, technological, and youth-oriented brand aiming to provide high-quality yet cost-effective audio products with an excellent listening experience for the younger generation all around the world. The entity's Chinese name is derived from "翡声" (Fei Sheng), meaning "the sound of Jade". The name "Jade Audio" conveys our mission towards providing consumers with a crisp and pleasant listening experience while maintaining audio fidelity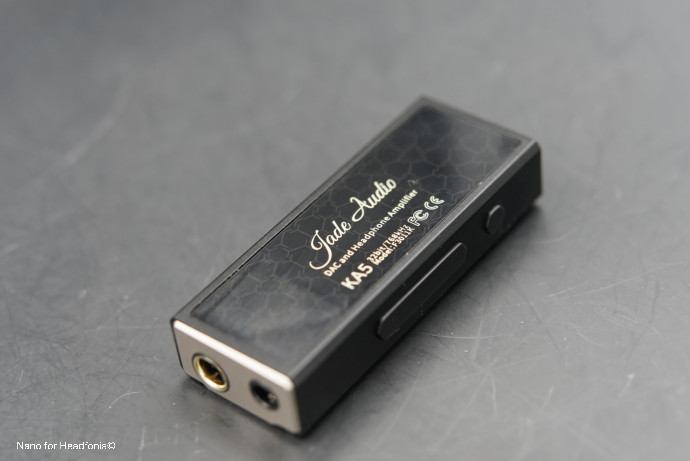 As a matter of fact, there are now more and more Jade Audio devices such as:
FiiO KA1 : a DAC/Amp with a single ES9281AC Pro chip (reviewed)
FiiO KA2 : a DAC/Amp with a dual CS43131 chip (reviewed)
FiiO KA3 : a DAC/Amp with a single ES9038Q2M Pro chip (reviewed)
FiiO KA5 : a DAC/Amp with a dual CS43198 chip (review)
FiiO FF3 : a new-gen earbud with a 14.2mm large dynamic driver (reviewed)
FiiO FF5 : same but different earbud with a 14.2mm large dynamic driver (reviewed)
FiiO Q11 : a portable DAC/AMP with a battery, replacing the old Q1 (today's review)
Design & Build Quality
Casing
With the the new FiiO Q11, FiiO's takes a whole new direction and completely deviates from the Q3 previous design. While the latter displayed a compact and sleek body, made of a rounded, unibody, aluminium chassis, the new FiiO Q11 seems a lot more… techy, even geeky.
From the golden-toned brand logo (with a new font by the way), to the arabesque directly milled on the front-panel, or the unmistakable glass-panel upfront, everything gives a cyberpunk vibe to this new model – something that I'm personally fond of, but not everyone may find it as cool as I do.
Still, out of the box, I was surprised by how small the Q11 is in real-life. End to end, the DAC/AMP is just 60.5 mm long, 105.7 mm wide, 16mm thick, and 150g heavy. Sure, that's ten times the weight of the KA5 we reviewed previously, but remember that this new device comes with a battery.
To those measurements, you can add the USB-C cable, or USB-C to 8-Pin if you're using an iPhone like me (all provided by the brand) and the silicone straps designed to be attached between your phone, and the Q11. Thanks to that, the DAC can easily be carried on the go, recreating the decade old audiophile sandwich, something that some of you may never have tried before!
Build Quality
Like every product recently released by the brand, the FiiO Q11 is absolutely flawless in this regard. Black anodized aluminum, gold plated 4.4mm Pentaconn output, screw-less design, everything looks and feels nice to grasp. Add to that a semi-transparent glass panel, displaying the dual-mono circuit when powered on, plus a super smooth potentiometer that act as a power switch too, and there's nothing you could really complain about on this player.
But, the real treat remains the glass window. Elegantly integrated under a glass top plate, this view to the Q11 inner world provides no information regarding the volume level but can inform you of the playback quality. It's super geeky and feels like the glass panel you get on your gaming tower case, but if you're into it, you'll find that super cool.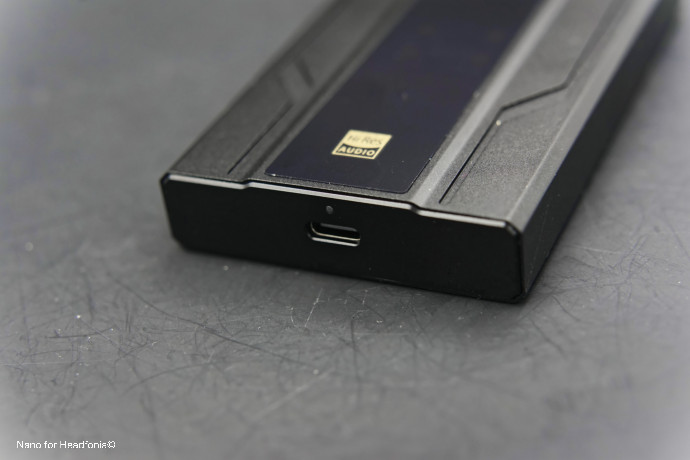 In hand, the result is even more impressive, thanks to that textured body and smooth edges. You could definitely drop it, or step on it, and it shall come out unscathed (I don't recommend any of that of course), my only worry being the small low/high gain toggle. Yet, after two weeks in my bag, with no protection whatsoever, I'm happy to confirm that the Q11 came out unshattered, and the toggle is still there, unbroken.
All in all, a very solid piece of work that inspires confidence and really gives a good impression.
Comfort and Specifications
Daily use
The FiiO Q11 is extremely simple to use. Okay, not as much as the KA5, or the iBasso DC03Pro, but still, unless you're completely dumb (or don't read the manual, RTFM) you should be up and running in a matter of seconds.
First, just turn on the device by turning on the volume control. Then, plug it into your phone, tablet, computer, tablet, and insert your headphone jack: you're good to go. There were no issues with my iPhone + TC28i + Q11, nor with the provided USB-Lightning cable. Same with my MacBook and computer: each time, the FiiO Q11 was immediately recognized by the source, and music came out almost instantly. On Windows, I had to wait a minute, until the OS got the right driver but after that, it worked flawlessly – and if you own other FiiO devices, this one should connect instantly.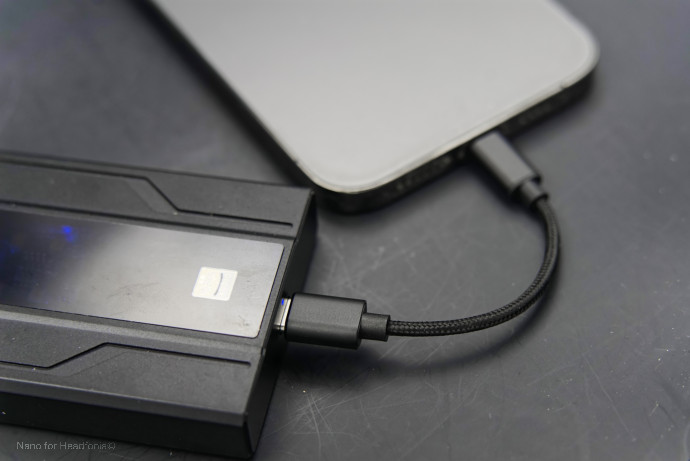 Like the Q3, and the old Q1, the FiiO gives you full volume controls on the Q11 allowing you to handle that aspect, directly from the device. No +/- button this time, all you have to do is turn the knob and the volume level will rise/lower accordingly, with the additional comfort of a gain switch, directly accessible.
On the go, it's a pleasant device to use… but clearly, pairing that one with the phone was not the easiest task. How would you say, aren't the FiiO Q7 or the Shanling humongously larger? Yes, but that's why they were easier to pair: both completely fitted my phone back, where the Q11 only matches half of its size, at best. So I had to rely on FiiO's silicon straps to strap the DAC to my phone, which gave me funny look each time I had to answer a call – but that's also the beauty of it.
Once again, the dual headphone output is a true blessing, even if the Q3 MQA keeps the crown with THREE different output/inputs. This allowed me to test various headphones, even when I forgot my adapters. Just remember that the FiiO Q11 comes with a 3.5mm port and a 4.4mm Pentaconn, so no 2.5mm TRRS here, unless you use an adapter. Bonus point for the 3.5mm port that doubles as a coaxial output.
So far, so good.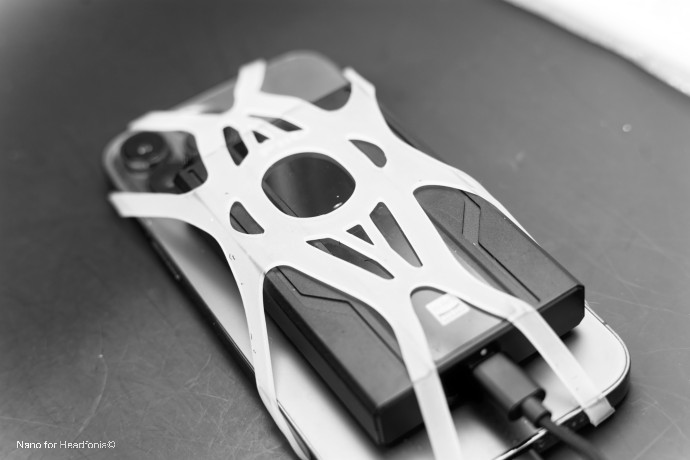 Battery life and Hiss
With a 2600mAh battery, I expected the Q11 to outperform the old FiiO Q3 by large. But in reality, both DAC/AMP achieves the same real life numbers, with a full day of listening, or 14h in my case. But, if you were to alternate phone and computer with your FiiO Q11, you shall never need to charge it more than once a week.
As for the hiss, there's a tiny tiny bit of it in high-gain and sensitive IEMs like my Onkyo, but if you stick to the low-gain output, you'll never hear anything.
Specifications
Like the KA5 at the heart of the FiiO Q11, you'll find a Cirrus-Logic Cirrus CS43198 chip.
A DAC advertised as a high-performance 32-bit, 2-channel audio D/A converter providing a "superior system-level audio performances, with less power draining". And, as an evolution from the previous CS4399, this new DAC now comes with an increased THD+N, from -108dB to -115dB and full DSD256 playback, when the older generation topped at DSD128.
Labelled with the MasterHIFI blazon, this DAC fits in the upper range of the manufacturer line-up with features like:
high impedance of 600 ohms
130 dBA dynamic range
inter-channel isolation of > 110dB
non-decimating volume control with soft ramp, and 50 kHz filtering as recommended by Scarlet Book
And while the KA5 unlocked some high-end features, like 768kHz PCM decoding, the Q11 is more conservative. You get:
up to 32bits / 384kHz PCM decoding
UAC 1.0 support only (USB 2.0 port)
< 0.0006% distortion @32ohms
So nothing new under the sun… but that was to be expected, this is an entry-level device, not the same as the Q7 that stand as the herald of FiiO's new catalogue.
The big plus remains the ability to output a true balanced signal from the 4.4mm Pentaconn plug, and not just a mirrored signal. And this is where the Q11 can shine: when dongles are limited the power they can drain from the phone, this device comes with its own battery and can manage to output a solid [email protected], and a whopping [email protected] . Impressive numbers, that we'll have to check in real life situation, see if the Q11 can really push our power-hungry headphones.
For the nerds out there, here are the full specs.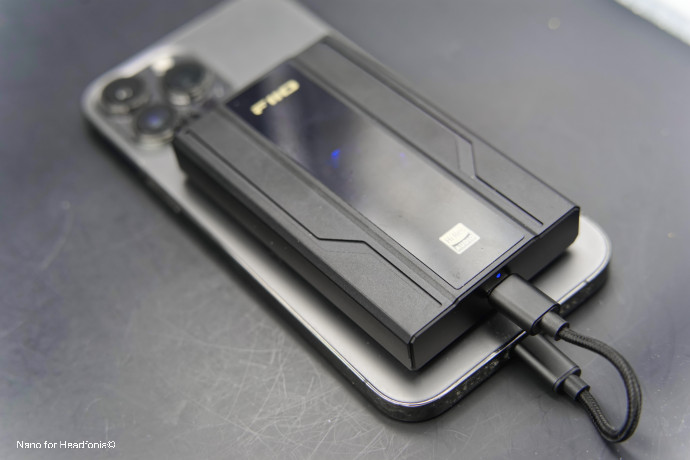 Technical specs
Type: USB DAC
Model: FiiO Q11
Chipset: Cirrrus-Logic CS43198
Frequency range: 20 – 40 000Hz
Compatibility: PCM up to 32bit/384kHz – DSD up to DSD256
SNR: 122B (single-ended) / 125dB (balanced)
Output power : 165mW @ 32ohms (single-ended) / 650mW @ 32ohms (balanced)
THD: < 0.0006%
Output impedance: < 1.2 ohm (single-ended) / < 2.0 ohm (balanced)
Size: 60.5 * 105.7 * 16mm
Weight: 150g
Socket: USB-C
The article continues on Page Two, after the click here