Berkhan – Senior Writer
2021 has been a very good and busy year for the HFN team, but also for my personal life. Apart from that, I actually can't quite believe my 5th year with this site has already passed. I never imagined working for all this time in reviewing, and I certainly didn't imagine testing so many great products from generous brands.
I published 34 articles this year and there's one more coming just before the new year, so a total of 35. Among these articles, there are great products, good performing ones and some that need improvements here and there. However, I'm sure every brand is pushing hard for the better. Here are my 2021 awards for your pleasure:
Best Universal IEM(s) :
SOFTEARS RS10 & CERBERUS
From the review:
Once you listen to the RS10 and the Cerberus from a top-tier source, it's not easy to go back to others. I put aside a lot of my IEMs to listen to these two flagships. The RS10 is in the office, and the Cerberus is at home. That's all you need to know. These two are special. They're not the most bang for buck products, actually far from that, but to the people who know what they're looking for, and have good ears, these would prove themselves every single time.
https://www.headfonia.com/softears-rs10-cerberus-review/
Best Mid-Fi IEM :
SOFTEARS RSV
From the review:
I simply can not find any weakness in the sound of the RSV. Maybe I can only mention a slight boost in the sub-bass region and relatively small sound-stage. Nothing else made me feel uncomfortable. After listening to three models from Softears, I can honestly say this is their bang-for-buck product, even though it's not really cheap at all. The RSV offers the most value for your money in their lineup and it's easy to say that.
https://www.headfonia.com/softears-rsv-review/
Best Budget-Fi IEM :
THIEAUDIO LEGACY 4
From the review:
If you're after that tight and rumbling bass, crisp treble, and high-resolution instrument reproduction, the Thieaudio Legacy 4 is an excellent performer for this price. It impressed me since I opened its package and put it in my ear. This is a highly competitive market especially in this price range, but the Legacy 4 is definitely a viable choice. It's not that impressive and game-changing as the ER2XR, but it's recommended.
https://www.headfonia.com/thieaudio-legacy-4-review/
Best Wireless IEM :
EARSONICS AERO
From the review:
The Earsonics AERO is one of the models that can change my stand against the TWS idea, Just like the Sennheiser Momentum TWS 2 and the Noble Falcon Pro. So if you're looking for an "audiophile-oriented" TWS, these are the ones you should take a serious look at. However, the AERO is a bit more special in my eyes simply because of its tremendous coherency, which I think is already a shining example in this particular market.
https://www.headfonia.com/earsonics-aero-review/
Best Custom IEM :
SOFTEARS CERBERUS
From the review:
When I wrote the RS10 & Cerberus review, I discussed what can be improved. My criticism about the packaging and the cable still stands. But sound-wise, I remarked that the treble needs a bit more definition and the rest is very good. And I exactly mentioned; "these factors may be better with CIEM versions, which I will have from Softears soon".
That's basically what happened. The custom Cerberus has a more definitive and extending treble. Even more than that, the bass has better impact and the mid-range is more consistent. The CIEM version is truly a complete warm-sounding flagship with an excellent and very special sound that you can't find often.
So, would I recommend it? Well, yes, for the sound quality alone, this is a fantastic flagship IEM in terms of tuning. 
https://www.headfonia.com/softears-cerberus-review/
Best DAP :
SHANLING M8
From the review:
The most striking performance from the M8 comes in the sound-stage and separation departments. The instrument separation is just marvellous. It's one of those exceptional players that perform excellently in terms of stereo imaging. Another great thing about the M8's sound is the timbre and naturalness. And it gets even better because it also has a great sound-stage performance. The stage is very wide and deep, together with excellent layering ability.
So how should I rank the Shanling M8? I would say it's among the best. This is the first DAP that really impressed me for quite a while. Aside from its unmistakable sound presentation, it has clean-cut Android software implemented with good features in a versatile environment. It has good battery life, build quality, and design. It has a unique approach to headphone outputs, which I really liked. Some people disagree about the idea, but I beg to differ.
https://www.headfonia.com/shanling-m8-review/
Best DAC/Amp :
VIOLECTRIC CHRONOS
From the review:
Violectric Chronos is the best USB dongle I've ever listened to. As the first-ever portable product from Violectric, this is quite a success. The Chronos has excellent build quality, simple operation, and a minimalistic design with elegance.
The sound quality is excellent and I recommend it to anyone who is looking for a tiny laptop/smartphone DAC/Amp companion on the go. The price is a bit steep compared to other USB dongles, but I'm sure you'll be surprised by the sound when you try it with your phone/PC.
https://www.headfonia.com/violectric-chronos-review/
Best Amplifier :
FLUX LAB ACOUSTICS FA-22
From the review:
The Flux Lab Acoustics FA-22 is a great performing full desktop amp with an excellent build, user experience and sound. If you're on the lookout for a high-level desktop amp, you should definitely check this one out while considering your options.
It's a very coherent, musical yet highly technical performer. There's nothing in its sound that I can criticize. There are also high-end options in the market but aside from those, I think this might be the highest level before the up-to-2000$ region. This is my first encounter with Flux Lab Acoustics, but I must say I'm very impressed.
https://www.headfonia.com/flux-lab-acoustics-fa-22-review/
Best Accessory :
ELETECH AENEID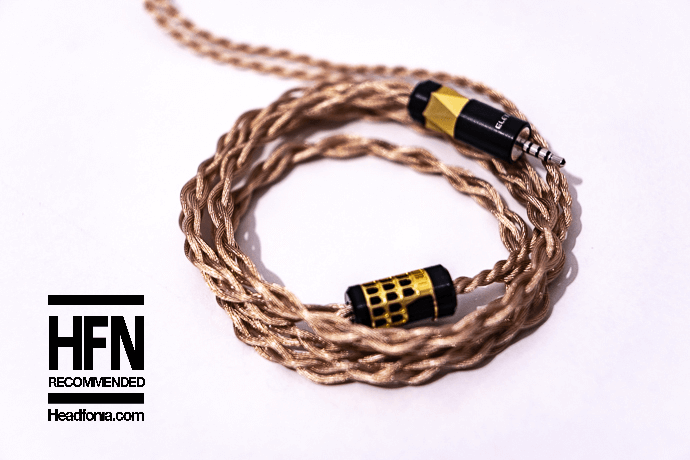 From the review:
Eletech has created a very special piece of cable with a very special approach to sound. You get excellent technical performance with a smooth and soft nature. The Aeneid is unique, and if you have the luxury to spend this money on a cable, you should definitely check this one out before striving for other flagship models. Hats off to the Eletech team and Eric Chong for this piece of gear. 
https://www.headfonia.com/eletech-aeneid-review/
Best Accessory – No Limits Category :
EFFECT AUDIO CENTURION
From the review:
Effect Audio has reached perfection in quality and craftsmanship, perfection in product presentation and accessories, and perfection in sound quality. They wanted to create the best IEM cable in the market, with a cost-no-object mentality. The result of that is the incredible price tag of 3999$.
Unfortunately, this level of performance is incredibly expensive and paying a hefty price of $4k for a cable is not something everyone can or wants to do. But if you have the budget, you can get the Centurion and never ever lookout for an upgrade cable. Case closed, as it performs incredibly with every IEM. It takes them to the highest level, improves every aspect of sound, and the overall performance is simply astonishing.
https://www.headfonia.com/effect-audio-centurion-review
End Words
Congratulations to all of our winners! May it motivate the competition to do even better next year 😉
If you have questions or suggestions about how we're doing things, head over to the comments section and we'll do our best to make Headfonia.com even better in 2022!
And of course don't forget part 2 of our 2021 awards, which will be published on Sunday!