Picture Report
Ok, they're maybe not the best pictures you've ever seen on Headfonia, but they do show that Headphone Auditions Amsterdam has managed to gather a lot of great gear in one room, all for you to try.
Let's go, in alphabetic order!
Are these enough amplifiers and headphones for you? No? That's ok, there's lots more!
With the right amplifier, the Audeze LCD-5 sounds incredible
Auris Audio was also represented with the Nirvana, though I didn't see their best high-end amp, the Headonia.
You can't call yourself a serious store without some top level DACs. Here's the Chord Electronics Hugo TT2
And of course the almighty DAVE
But also the cool XIAudio Sagra DAC
I really liked these local made pouches for your portable gear, full customization available. Really lovely
I only recently received the DCA Stealth, as Matty did the review for us. But I really do like it, with the correct amp that is.
And now just a week or 2 ago, I also received the Expanse, so that review is still coming up.
If you're into tube amps, then HAA for sure has you covered.
Not enough headphones you say? Think again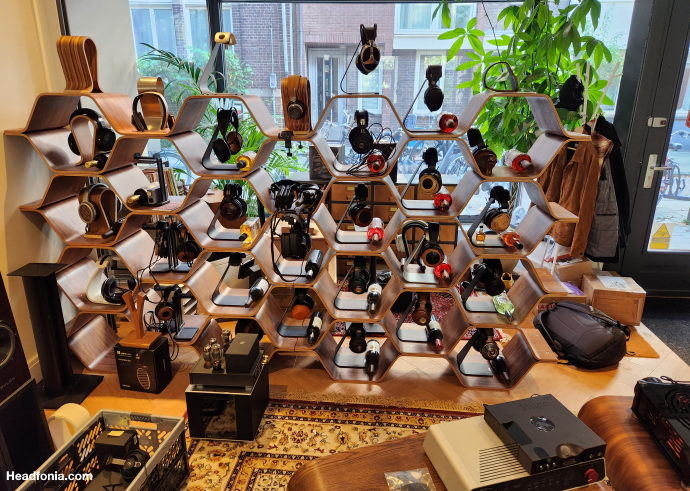 Or do you still want more?
There's also much more Audeze and Hifiman of course
And Sennheiser, even if well hidden
Or are you more in to portable gear and high-end IEMs?
And yes, you can really try anything you want, like this guy was doing. (Sorry to have disturbed you)
I only discovered the Inear Pro Mission X recently, but with the right source it's super nice to listen to, and affordable.
This 300B speaker setup was converted to a headphones system and it sounded very impressive. Think of dCA and Riviera, that level of sound.
It's also the first time ever that I spotted an AudioValve amplifier in a store, even if this picture is more about Lotoo.
The Elite for sure is my favorite Meze headphone, which one is yours?
Listening to the Mysphere is always nice
Though I do prefer the RAAL SR1B. Their CA headphone is also excellent
It's just a shame their headphone is amp is so expensive and hard to get hold of.
This Riviera definitely was my favorite amp that day
But the Rupert Neve ….
As well as the Viva amp, always impress as well
Not into personal audio I hear you say? Impossible, but ok
And I'll throw in some vinyl with that as well
And you can never enjoy your music without a good drink 😉
That's it for this report. We hoped you liked it and let us know in the comments if you want to see us do more of these visits/reports.
My next article will be all about the Audeze MM-500 headphone, this Tuesday. See you then!