Disclaimer: The Beyerdynamic Aventho Wireless was sent to us in exchange for our honest opinion, the sample is on loan.
Intro
I admit there haven't been many wireless headphone reviews on Headfonia.com and I should really apologize for that. It's Nathan who's our wireless expert and fan and he mostly focuses on IEMs nowadays and so this category kind of doesn't get covered as much. The rest of the crew is more into cabled gear.
You probably also noticed that we don't review many on ear headphones either, so again, why now? Well, Beyerdynamic is one of my favorite brands and if I do use an on ear headphone I always go for the Beyerdynamic T51P. The T51P isn't only quite comfy for an on ear but it also sounds really good and so I figured it was time to give this newest Aventho Wireless a closer look. Beyerdynamic has also released a wireless version of the Amiron in the mean time and I have to say that version looks really interesting as it's a headphone I love using while watching movies.
But on to the review!
Beyerdynamic
Beyerdynamic has more than 90 years' experience developing audio electronics and stands for innovative audio products with the highest sound quality and pioneering technology. Two business divisions – Headphones and Audio Systems – provide tailored solutions for professional and private users. All products are developed in Germany and primarily manufactured by hand – from hi-fi headphones to stage microphones as well as conference and interpretation systems.
Beyerdynamic is a world famous German headphone company and over the years they have given the world a whole series of top quality headphones and amplifiers of which we have reviewed a whole bunch: DT770 AE, DT1770PRO, DT1990PRO, T90, Custom One Pro, T51P, T1, T1.2, A2, A20, iDX160iE, A200P, T70, DT1350, DT880, and the sublime Xelento.
Linus also had an interesting chat with Beyerdynamic's Mario Gebhardt, Director of Business Unit Headphones. Do check out that interview here to learn something more about Beyerdynamic: https://www.headfonia.com/q-n-a-saturday-beyerdynamic/
Aventho Wireless
The Beyerdynamic web page for the Aventho Wireless can be found right here:h ttps://europe.beyerdynamic.com/aventho-wireless.html
So what is the Aventho Wireless? In short it is an on ear portable Tesla technology headphone with Qualcomm aptX HD but it also comes with a cable, just in case. A unique feature of the Aventho Wireless is the sound personalization it comes with, though you don't need to use it.
That means the Aventho Wireless adapts acoustically to the user's hearing thanks to integrated sound personalization and according to Beyerdynamic it thus delivers perfect sound, no matter which device. The personalization  is done via the Beyerdynamic MIY app where you can create a sound profile, adjust the sensitivity of the touchpad and track daily listening habits.
The Aventho Wireless comes with intuitive handling using the touch pad integrated in the right ear cup as well as high-quality hands free microphone for phone calls. I have tried these kind of intuitive handling before, and it never ever convinced me. Yet with the Aventho Wireless, it's easy and it simply always works. To ensure the best sound with your wireless headphones, Aventho wireless uses the Bluetooth 4.2 protocol and the aptX™ HD Codec by Qualcomm®.
There are several Aventho clips on Youtibe but I like this 45 second one most:
MIY APP
According to Beyerdynamic, the innovative MIY app connected with the Aventho wireless takes personalization to the next level. Measure your hearing and upload your personal sound profile directly to the headphones. Enjoy sound that is ideally tailored to you. By the way: via the MIY app, you can use an innovative 'Sound Watching' service to gain an insight into your listening habits and measure duration and intensity of your daily listening. The core of the MIY app is the famous Mimi Hearing technologies technology. Did you know that Beyerdynamic won the CES innovation award with this Aventho Wireless? That's impressive!
If you don't care about this at all then that's perfectly fine and you can just use the Aventho Wireless as a normal wired or wireless BT headphone.
You can all the app info on the website right here: https://lp.beyerdynamic.com/miy-app/en/ or you can watch this little video:
The app actually works on the Xelento and Amiron Wireless units as well. After you download it, you'll immediately have to update it. Once done, enter your year of birth, do the 6 minute hearing test for both the left and right year, upload it to the Aventho, and done. I have to say I hardly ever use my phone as source, and the biggest part of this test was done with the Astell&Kern SP1000 as BT source, aptX!
The MIY app is fun and it certainly has its use, but don't expect something miraculous either. With that I mean that this shouldn't be the main reason to buy the Aventho Wireless, it's just a very nice extra to have.
Design, Build Quality & Comfort
We're used to getting a top build quality from Beyerdynamic and it's no different with the Aventho Wireless. The headphone is made in Germany and we all know that means it's top quality. From the pads to the cables to the headband to the USB-C connector: the finish is as good as it gets.
Beyerdynamic is using a mix of plastic and precious metal but it just works together and it gives the Aventho wireless a modern yet stylish and sophisticated look. In fact it has already won a Reddot design award. The unit is available in brown or black, but I prefer the black version myself.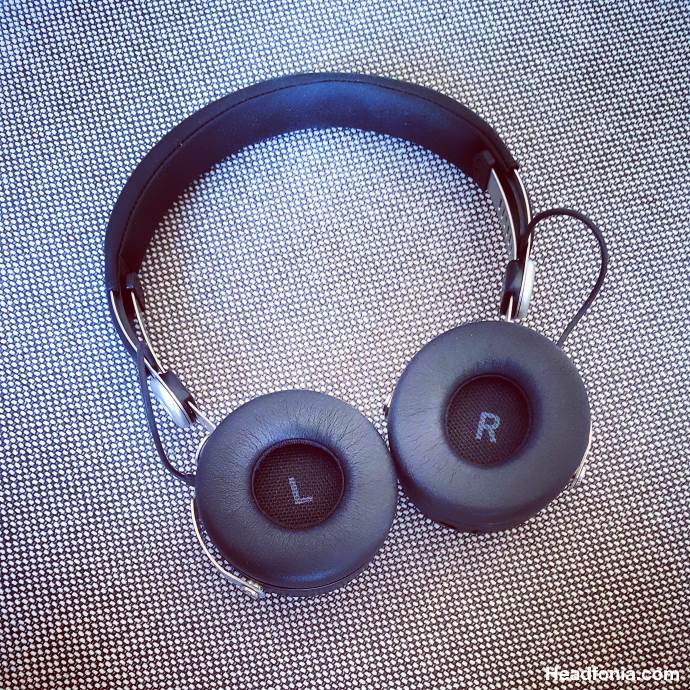 Durability-wise, I think this headphone will do quite good, though it of course isn't like the robust Sennheiser HD25, which is n a league of its own ever since it was launched years ago. Comfort wise the Aventho wireless is quite good. As said, I'm not a big fan of on ear headphones, but the pads are soft and the clamping force is just right for my head. I also don't get painful ears even after several hours of listening, so that's always a plus. Weight-wise this headphone for its size isn't the lightest but if you're used to wearing/using big planar headphones than this is really light. Isolation-wise these of course do let outside sounds come in, there is no noise cancelling of course. I didn't really notice the Aventho Wireless to leak any sound, but that also depends on your listening volume.
The headphone band also perfectly distributes the weight over the top of your head and it doesn't hurt your head  one bit. For me, the comfort is as good as it gets for a portable on ear headphone.
Touch Pad / Usability
Another of the features of the Aventho Wireless is the touch pad on the right ear earcup. As said, I usually tend to not like these cause they often only work half of the time, giving wrong commands or just not registering your movement. With the Aventho it has worked correctly from the beginning and you can even modify the sensitivity of the controls in the MIY app. It's one of the first implementations I actually use, as I normally tend to control the source on the source itself.
The main controls I use are the volume setting (up-down), the previous/next song option (back-forth) and the play/pause (double tap).
Explanatory movie? Sure!
Looking at the general non-touch pad usability the Aventho Wireless has some impressive numbers to show. A full charge over USB-C takes only two hours and it will get you a playback time of up to 30 hours, that's huge! The 1,050 mAh battery is doing miracles for the Beyer. When using the Aventho Wireless with your phone and the app, your phone's battery will drop rather quickly though, it's certainly something to keep in mind.
Connectivity-wise the BT range is well, not exceptional. I most of the time carry the source close to me as I don't tend to let DAPs like the SP1000 and WM1Z laying around. So I haven't experienced any drop outs and of course with the aptX you get a good signal and sound quality.
At home however, using the SP1000 which isn't known for its strong BT signal, the Aventho Wireless already loses connection after about 6 meters. With my Dell laptop I can just make it to the first floor, so basically it all depends how strong your source's BT sender is.
Technical Specifications
Operating principle: Closed
Transmission type: Wireless via Bluetooth (+ cable)
Remote: Without Remote
Nominal impedance: 32 ohms
Weight (without cable): 238 g
Frequency response: 10 – 40,000 Hz
Nominal sound pressure level: 105 dB SPL (1 mW / 500 Hz)
Sound coupling to the ear: Supraaural (on-ear)
The part on SOUND can be found on Page Two of this review, after the click HERE or by using the jump below