On this page you'll find the amplifier recommendations of this moment. This is an ever evolving list.
Portable Amplifiers
JDSLabs Cmoy
This great sounding portable amp at a great price is becoming a very consistent recommendation for all sorts of headphone listeners. For $60, you can get into the portable amp bandwagon and see what the fuss is all about. The JDSLabs' sound quality don't disappoint either. Open and spacious with smooth mids and a very musical overall sound. It also comes with a bass boost feature that bumps up the bass significantly.
Review: https://www.headfonia.com/60-pack-of-awesome-jdslabs-cmoy/
Fiio E12A/A5
The Fiio E12A (now named the Fiio A5) for sure is my favourite Fiio amplifier. While it isn't the smallest, its size is perfect for stacking it to your mobile phone. It's well built, it features Fiio's excellent Bass Boost (+5dB) and best of all, it is dead silent with sensitive inear monitors. At the same time the A5/E12A has more than enough power to drive normal full sized headphones as well.  This isn't really the portable amplifier for high end equipment but this is an amplifier that will improve the sound quality from your normal MP3 players and phones, or power your headphones when your normal source isn't up to it. I certainly liked it with a whole range of head- and earphones and this amp is great value for money.
Review: https://www.headfonia.com/review-fiio-a5-new-e12-aka-fav-fiio-amp
Bottlehead Crack
The little Crack doesn't need the fancy tubes to sound good. It – for a low amount of money –  makes your high impedance headphones such as the 300Ohm Sennheiser HD650, HD800 and 250Ohm Beyerdynamic units sound very good. For the money it's still going for today, the Crack probably still is the best value tube amp on the market. And not only do you get a wonderful amplifier, you get to learn about audio, DIY and soldering all in one. If you're into higher impedance headphones, the Bottlehead crack still is THE recommended amplifier to get. In fact I don't think you can find an amp with a better technicality than the Crack for less than $500. If you build one yourself, that means only $299, and the Crack is a steal for that price. We ordered the amp before the price increase, but even today you're practically robbing Bottlehead for the sound you get for that little money.
Review: https://www.headfonia.com/wayback-wednesday-bottlehead-crack/ & https://www.headfonia.com/bottlehead-crack-otl-addiction/
Cypher Labs Picollo
If you're looking for a top level portable IEM amplifier, there is no way around the sublime Cypher Labs Picollo. This small sized analog amplifier has an excellent build quality but most of all it sounds extremely good. The Picollo is an incredibly good and musical amp, especially for IEMs. The Piccolo has extremely low floor noise, features a dead quiet volume pot with a wide range and a completely black background. It has more than enough detail and clarity with an always nicely present bass. On top of that it – when needed – has enough power to drive full size headphones, from 35Ohm orthodynamics to 600Ohm Beyerdynamics.
Review: https://www.headfonia.com/cypherlabs-algorhytm-picollo-old-school-analog/
Cypher Labs Duet
The same company also makes the excellent sounding DUET. The special thing about the duet is that it is a fully analog amplifier with both a balanced input and output. I love using it in combination with the AK380 DAP as it has a balanced line out. The Duet is an amplifier that does it all: from inears to the TOTL full sized headphones, the Duet does it all. My personal favorite is the LCD2 but it's also stunning sounding with the HD800 and LCD-XC. The Duet is a high end portable amp with a desktop sound.
Review: https://www.headfonia.com/the-duet-cypher-labs-fully-balanced-amp/
Vorzuge Vorzamp Duo II
This amplifier is in the same high end category as the Duet is. They're very comparable but the Vorzuge doesn't have the full balanced circuit the Duet has. On the other hand it does have an EQ system. Nathan stated: "no amp I've reviewed, and no amp I've tested, packages the DUO II's performance with such a badass EQ system. And no amp company I've dealt with is so demonstrably dedicated to a platform."
Review: https://www.headfonia.com/review-vorzuge-vorzamp-duoii-basses-loaded/
Desktop Amplifiers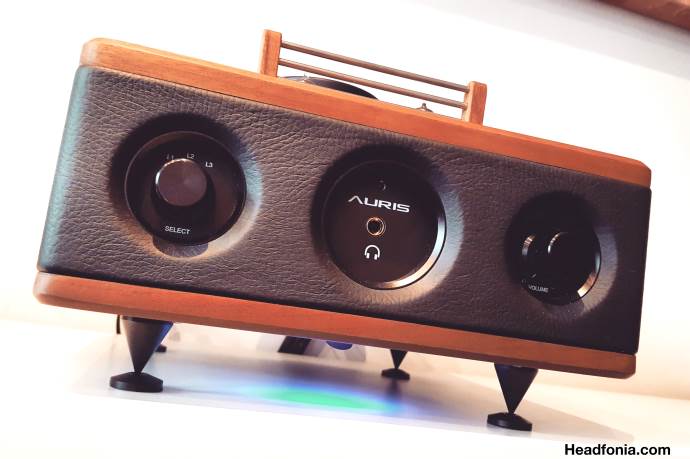 Lake People HPA RS 02
Lake People is the PRO side of the very popular German Violectric brand. It might not look as sexy as the Violectric amps but the HPA RS02 is an excellent sounding amplifier. It probably comes as close to a neutral sweet spot as is possible.  It is very linear from top to bottom.  The bass is tight and hits hard.  The mids are clear and detailed.  The treble is extended and sparkles.  The width and depth of the soundstage are good. It isn't really forward in its sound, but it also isn't laid back.  It isn't warm, but no one would call it cool either.  It just is.  Natural is a good word for it.
Review: http://www.violectric.de/produktdetails/HPA_RS_02.html
Violectric V281
If you're looking for a top class solid state amplifier that offers dual Single Ended headphone outs and one 4 pin XLR Balanced out, this could be just the amp for you. And there's more: there's an optional remote control and the V281 can serve as a pre-amp too. watch out, cause once you've listened to the superb balanced out, you'll be hooked. Another advantage, besides excellent sound, is that the V281 can drive all of the headphones on the market and that Violectric offers 5 years of warranty. Simply a masterpiece
Review: https://www.headfonia.com/violectric-v281-masterpiece
Bottlehead Crack
If you're more in to tube amps and you have a collection of high impedance headphones then the choice of the amplifier with the best price/quality ratio is easily made. The Bottlehead Crack is a DIY tube amp with a 12AU7 input tube and a 6AS7 type power tube. The sound this amplifier produces is incredible, the Crack delivers one of the cleanest sound, the blackest background and the widest and deepest soundstage I've heard on any amp below the $1K mark.
Review: https://www.headfonia.com/bottlehead-crack-otl-addiction/
Auris HA2-SE
The Serbian made tube amp is a great all-round that outperforms its price by far. IT's very well built with nothing but the best components and it's very pretty. The HA2-SE sounds balanced and transparent with great clarity and precision. It handles all types of headphones: from planar magnetics to dynamics, from 32 to 600Ohm, the Auris always sounds great at all time. You'll have this amp for the rest of your life.
Review: https://www.headfonia.com/review-auris-audio-ha2-se-perfection/
Only the most popular products are listed here. If you feel it to be too limited, feel free to browse the reviews on the Amplifier Category: