In today's article, we take a look at Audirvana Studio, a third-party player for your PC/MAC, that aims to improve your listening. It's available directly from the company's website for €6.99 per month. 
Disclaimer: Audirvana didn't pay or endorse us for this review, I subscribed to the Audirvana Studio's Free trial and took a subscription on my own, to test the software in the long run.
About Audirvana
Audirvana is a French company, founded 10 years ago by Damien Plisson. The idea behind the tool was to improve the computer's music playback, by removing all the digital processes applied by the OS. 
A first plugin came out, only available for macOS at the beginning, designed like a Foobar nerdy little brother – if the first was not nerdy enough. But, to my surprise – and Damien's too – as time goes by, the little software became more and more famous in the audiophile circle.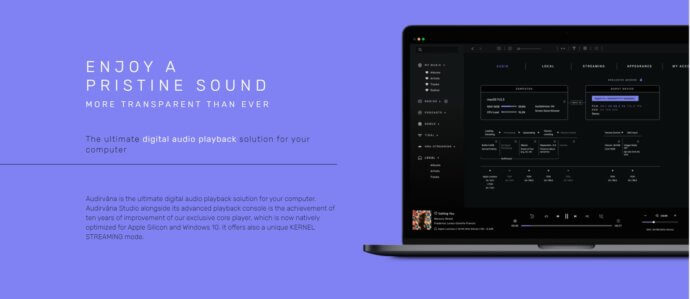 Why? Because everyone was baffled at how powerful this little piece of code seemed to be. Even the most skeptical listeners – I was one of them – were surprised to hear real improvements through Audirvana's eponymous software.
Since then, Audirvana's team kept on growing and the plugin evolved into a real player. So much, that the company decided to change the name of its latest version: Audirvana Studio.
Out of curiosity, I took a free trial first, then decided to take it for a few months, so that I could give you my impressions in the long run. Let's dive in, shall we?
A quick view
What's Audirvana Studio?
Audirvana Studio is primarily a third-party player. It scans your local library, finds your tracks/albums, and allows you to access them in a common interface. 
Like Roon or Plex, it's able to retrieve your album's information and fill the blanks in your library. Also, the new Audirvana Studio comes with streaming apps supports, and you'll be able to connect your Tidal, Qobuz, or Hi-Res subscription. (no Apple Music, Amazon Music, or Spotify for now)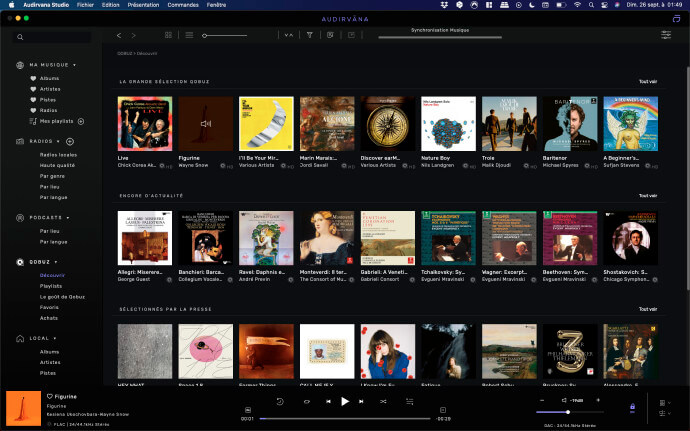 Why would I use a third-party player?
If you have your own music library as I do, the best options at the moment are Roon and Plex. Both offer a well-designed interface and powerful tools to manage your library. Those software offer extensive options to sort and filter your music library and allows you to create your own "Spotify/Tidal" at home and access your music locally, or remotely, with ease. Both systems rely on a "core" where all data is stored, and network streamers can just pick up your music from your NAS/Computer or that core.
What about Roon and Plex then?
Lieven and Linus have been using Roon for a few years now, and there's always a moment in our conversation when they ask why I didn't subscribe, yet. And, honestly, I didn't have a good answer to that question: not only do I have the majority of my systems compatible with Roon, it also remains one of the most beautiful ways to access your music (in my opinion). 
A monthly subscription costs $12.99, but you can save a few bucks with a yearly subscription ($9,99/month). And if you want to show your dedication, or REALLY don't like to subscribe, Roon also has a lifetime subscription, for an eye-watering $699, or approximately 6 years of monthly installment.
But, I've been using Plex for years now. Not because I find it better – head to head, Roon literally rolls over the competition when it's about music – but because I own a big movie database. And, to this day, no other options gave me the same level of refinement when sorting my movies and series. Sure, Plex also sorts my music but as good as it is, the sort engine remains sub-optimal, compared to Roon.
Last but not least, Plex is MUCH cheaper than Roon. A monthly subscription costs $4.99, a yearly one $39.99, and a lifetime only $119.99. I took the yearly one and after more than 6 years, I've got nothing but good things to say about Plex.
That said, time to go back to Audirvana.
Page 2: Specifications
Page 3: Everyday Use, Pricing
Page 4: Sound Performances, Comparison, Conclusion