Sound performances
Sound quality
For this review, I mostly used my MacBook Air paired to the Sennheiser HDVD820 and xDuoo TA-30. My headphones? The Sennheiser HD-800S and Audeze LCD-X. Out of curiosity, I also tried Audirvana on my PC, connected to my KEF LS50 Wireless. All files were either streamed from Qobuz or my own library.
Overall signature
So, did Audirvana really improve my system? Short answer, yes.
I've seen a lot of snake oil over the years, but this time, the hyper is real: Audirvana Studio really made a difference and I could hear it right from the start. Of course, the difference isn't as obvious as if you were to replace your DAC for a better one, but head to head, on the same system, the player made a clear difference.
First, I did a simple comparison with the Sennheiser HD800S + HDVD800. I picked a track that I listened to at least one time a day – More Than Just the Same from Infected Mushrooms – and did some back and forth between Qobuz and Qobuz + Audirvana.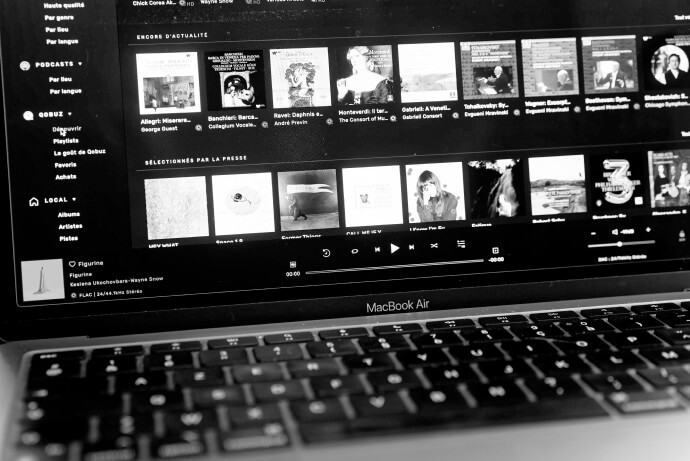 And to my surprise, Audirvana came up as the clear winner here. At the same exact volume settings, switching from Qobuz native player to Audirvana significantly improved the dynamic range. Bass hit deeper, highs are sharper and voices sound more natural. Going back and forth wasn't easy, as exclusive audio access takes a few seconds each time to activate/deactivate. But, going back to Qobuz, or even Plex for my local files, really felt like a drawback. 
Next, I did the same test with the xDuoo TA-30 and my mighty Audeze LCD-X. This time, I put my own tracks to the test and I chose a few albums in Hi-Res, that I personally found well-arranged: Justice – Audio Video Disco, Eagles – Hotel California, and Daft Punk – Random Access Memories.
Again, 10 out of 10, I could spot which was which, and this time the sound difference became much more obvious. I chose R8Brain for oversampling, but didn't use replay gain at any moment, and again, the dynamic range was vastly superior with Audirvana. Everything seemed sharper, better as if someone magnified every aspect of the track. 
Finally, I did some tests with my KEF LS50 Wireless, my desktop speakers, to check if I could spot the same enhancements, without my headphones. And if it was harder, the improvements remain clearly audible, especially in the lower section. Sure, the subwoofer helped, but it would be unfair to undermine Audirvana's effect on my setup.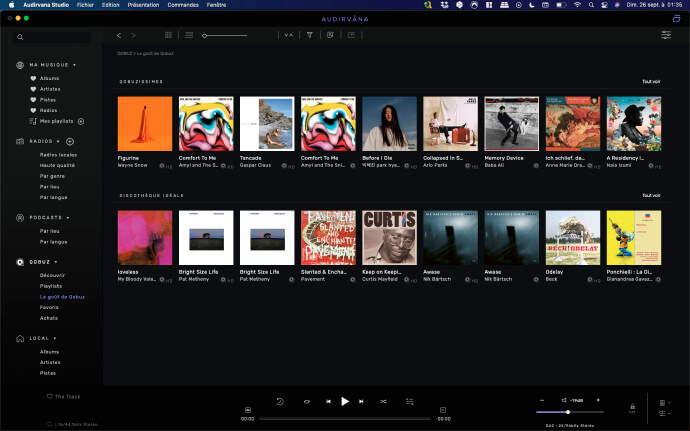 Comparison
Audirvana Studio VS Roon
It's simple, if you want the cleanest, nicest interface with rock-solid experience (with a good Core) and ultra-wide compatibility with your audio devices, get Roon. I took a free trial, just for the sake of this review, and honestly, nothing can touch Roon in this regard.
Also, a feature missing in Audirvana that I loved on Roon was… multi-room playback. Most of my gear is Roon Ready and thanks to that, I could control every one of them, from the same computer.
Even though, if Roon supports Bit-perfect playback and DSP setup, I didn't get the same feeling of wonder, musically. Clearly, Audirvana was better, and you'll immediately hear the difference.
Audirvana Studio VS Plex
First of all, I love Plex. It doesn't need an expensive computer to work – I just bought two Nvidia Shield and dedicated one as a server – and cost a lot less than Audirvana and Roon.
But, music-wise, it's definitely the worst option of the three. Sure, it supports bit-perfect streaming and Tidal, but honestly, the tag engine isn't as accurate as what you get on Roon and the sound quality cannot match Audirvana.
For my movies, it's absolutely perfect as it's able to crawl into more than 40TB of 4K movies, with ease, but for my music, I'll definitely stick to Audirvana now.
Conclusion
Long story short, Audirvana works as intended: plug your DAC, launch the player and overall quality will immediately increase.
Like Apple demonstrated with Apple Music, the software/hardware combination cannot be underestimated nowadays, and I'll definitely keep Audirvana as my main player. On every DAC I tried, the improvements were real and the search engine is a step above Plex or AIMP.
Should you do the same and get Audirvana Studio? It's up to you. Personally, I found the software more efficient than cable changes in comparison, but once again, I can only ask you to try it on your own.