Roller
These were launched at Canjam London a few months back but I haven't heard anything about them since then.
It seems they're still selling for €3000 a unit but they do look really nice. Sound wise? I'd have to listen more but in London these didn't really convince me right away
They do come with a very nice package though, but for that price I wouldn't expect anything less.
Rooms
Together with the Sieveking stands, these are the prettiest (wooden) design stands in the world. And they're quite affordable
Roon
I expected to see more people use ROON software. To me and a lot of industry insiders it's one of the best players out there. Still no clue what Roon does and why it's so great?
Then you should for sure check out our review of it and the interview we did with the Roon CEO, you can find these here:
Review: https://www.headfonia.com/blog-roon-overdue-revolution/
Interview: https://www.headfonia.com/q-n-a-saturday-roon-labs/
Sbooster
Power cleaning. It's one of the popular things nowadays.
I agreed to get one for the office to see if it can convince me, we'll see…
They also come in a small USB version. A bit like the Jitterbug and the IFI dongles.
Sennheiser
One of the most popular booths at the show and that's no surprise. Sennheiser has many wonderful headphones like this classic HD650 which we call the King.
Of course a lot of people were there for the new products such as the HD660
It's a bit of a mic between the HD650 and the HD600 and it reminds me of the HD700 signature.
It certainly wasn't bad and it's easier to drive, but I won't be handing in my HD650 anytime soon.
The IE 800S of course was popular too, just like the IE80S
For the IEMs most people were listening to Momentums however
All over the show a lot of HD800 and HD800S headphones could be seen
And then there was the old Orpheus and the new Orpheus/HE1. NExt to eachother in a private listening room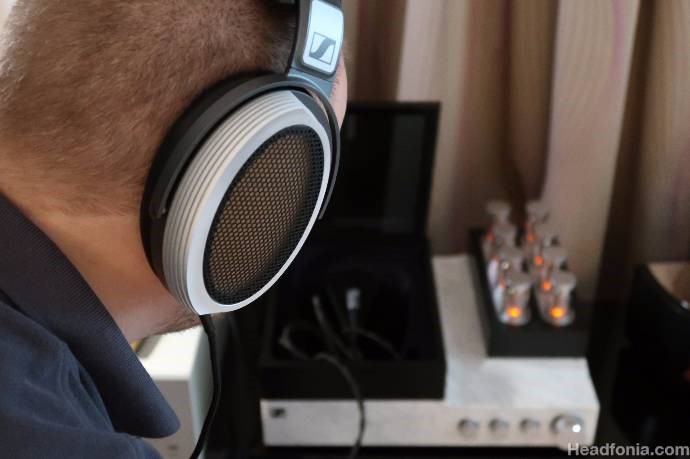 I prefer the new one sound wise, but isn't that old one beautiful?
I had like 45 minutes with these two beauties and I could switch between them all I wanted.
It was a very good Sennheiser day.
Shure
I'm especially a fan of their inear monitors but the Shure teams always shows up with all they've got
Like with AT, their full sized headphones don't do it for me yet but I realize they have many fans
I prefer listening to this though, by far
And this
And if you're not sure yet what you like (pun intended), then you you can try every single IEM on their testing bench
Sieveking
My favorite headphone stands. I actually took a couple home with me
Mister Sieveking really digs the Meters headphones
He took pictures of me wearing them, so I'm pretty sure those will surface soon. But those aren't the worst ones…
Simgot
We all love Simgot. Both the Pro and Bass model are so nice!
Those sexy grills just do it for a whole lot of audiopiles
Yes there's even more. Click HERE