Shure
Every show I have been to Shure has been too. they always bring their full line-up as well and it great being able to compare all their IEMs next to eachother
I prefer their IEMs over their full sized headphones, but they were all there as well
Sieveking
It's still the most used headphone stand in shops and at shows. I have seven of them as well but I need another 30 or so. Too bad they're a little pricey 🙂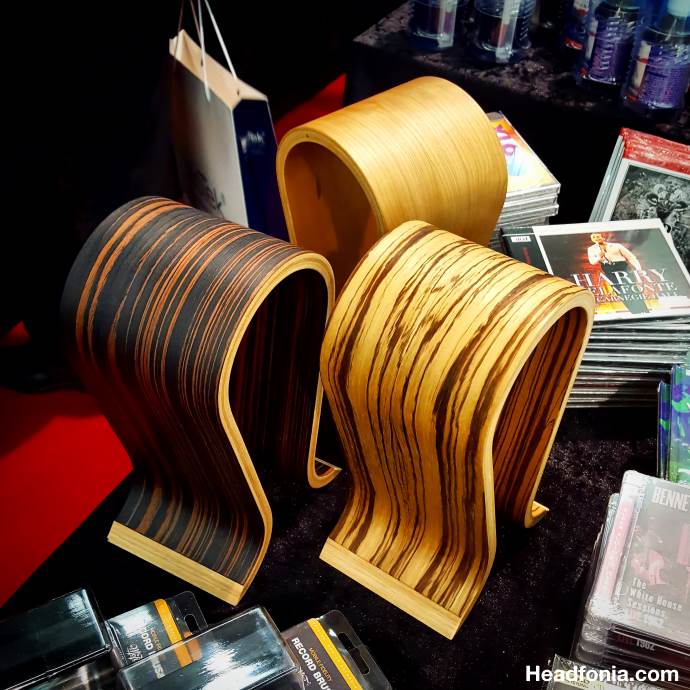 Sonoma
I've been looking forward to listening to the electrostat Sonoma Acoustics Model one and it did not disappoint. the headphone and amp come as a set. I like the design as well
The ear cups, just like the HE-1's and the Shangri-La's look gorgeous. Seems I have a thing for electrostat ear cups…
Sony
Sony itself wasn't at the show but I did find several companies such as final Audio using the new WM1Z DAP at their booth.
Ultrasone
Yup.
Vinnie Rossi
It was the first time I met the genius himself and he's actually a very normal down to earth and friendly guy. His Lio amp is a little bit out of my budget but you do get the very best in return.
Violectric / Lakepeople
It's always a pleasure seeing Fried. He wasn't really showing anything really new for us but there will be new gear coming up later this year or next year. Exciting!
Woo Audio
Woo Audio wasn't officially exhibiting but you could find two of their brand new WA33 units at the show. Jack let me listen to the WA33 which was set up in a 120.000€ system driving the Abyss and it sounded incredibly good. Yes, €120.000!
This exact WA33 is a special edition. It's called the Elite Edition and it well set you back around $15K.
That's it for this year's show report. I'm pretty sure I missed some brands and that I didn't cover a lot of interesting things but it's simply impossible to do everything in Munich.
I'm definitely going back to Munich next year. See you there?