If Google took you here directly, click here to go to the start of the article: https://www.headfonia.com/ddhifi-tc44a-tc35c-review/
Design & Build Quality
Casing
Like every ddHifi's dongle, the TC44A and TC35C are super small, but also super sleek. Until you get them in hand, you won't believe how tiny the TCxx series is, even more once connected to your phone. At the moment, none other device achieved the same level of compactness, while conveying such a premium feel, and that's even truer with this new generation.
Very similar visually, the TC35C and TC44A share the same design and layout. An aluminum square topped by a Lightning plug, equipped with a headphone output on the side. End to end, the TC35C is just 16,6mm wide and 9.6mm thick, while the ddHiFi TC44A appears to be a tad bigger, due to its 4.4mm output, being 21mm wide and 12mm thick. 
By comparison, the EarMen Eagle or NuPrime's Hi-mDac were much bigger than both the TC35C and TC44A combined, which is pretty impressive no matter how you look at it.
In fact, during my time with them, my sole concern was how easy it would be to lose those dongles, but luckily, that never happened.
Build Quality
Again, ddHifi ticks all the right boxes, and the new dongles feel as good as they look. Wherever you touch, it's just thick solid metal and with my iPhone, I was more anxious to break my Lightning port, than the TC44A. A fear that disappeared after a few weeks of use.
Almost unbreakable, both devices were made of a solid case of blue-tinted anodized aluminum, topped by a black cover engraved with the name of the model. It's clean, flawless design, and I especially like the bold golden plug visible on the TC44A. 
No gaps, no loose parts, and after a few weeks of use, both of them came free of any wear sign. A very nice job!
Daily use
Both ddHiFi TC44A / TC35C are extremely easy to use. No led, no direction, pure symmetric design, those are the epitome of plug&play.
Ah, and before you ask, yes each of them is also available in USB-C version, in case you don't (want to) own an iPhone.
TC35C
You plug it into your phone, insert your headphone's jack and you're good to go. There were nos issues with my iPhone 13 Pro, and was pleasantly surprised to see how well it worked on iOS. A lot of DAC makes the iPhone displays the infamous "this accessory requires too much power", but that was never the case with the ddHiFi T35C. 
Compared to the TC35i, it took a little more time for my phone to recognize the device, but we are talking in seconds here, not minutes. One more thing: if the TC35i (2021 and 2022) supports play/pause and phone call, the TC35C only supports the prior. So if you need to take a call, you'll always end up in hands-free mode…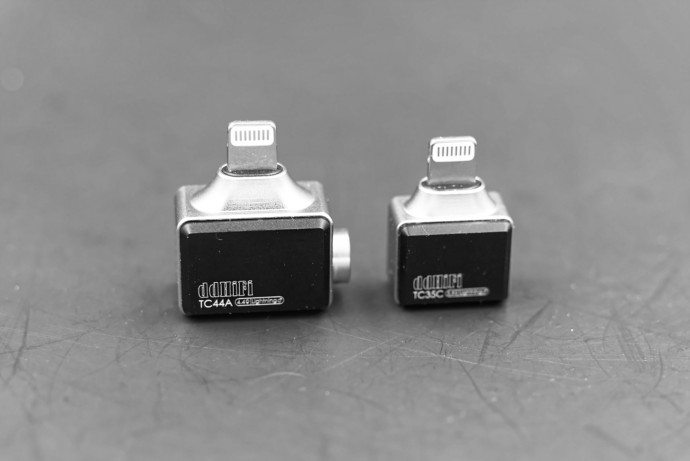 TC44B
Again, all you have to do is plug the DAC into your phone, and you're good to go! Bigger and bolder, the ddHiFi TC44A really screams "audiophile" once plugged into your phone. The few mm doesn't make a real difference in terms of use, but visually the difference makes the TC44 look a bit more… professional? Let's agree on fancier. 
As you'd expect, now that the device comes with a 4.4mm Pentaconn output, instead of a 3.5mm, you won't have access to any control or phone call support. Just pure music.
Specifications
TC35C 
At the heart of the TC35C, you'll find a Realtek ALC5686 SOC, the same chip found in the TC35i and TC35b… 2020 edition. In fact, the TC35C only difference is the T-Shaped design, and updated casing, but the inner circuitry remains extremely close with PCM 32bit support and an improved SNR/DNR compared to the classic Apple chipset.
On paper, we should find the same performance as on the previous models, with enough power to driver moderately hard to drive headsets, like the Meze 99 Classics, or ddHiFi's own IEM, the EA2020.
Full specifications
Model: ddHiFi TC35C
Type: OTG Lightning Plug DAC
DAC: Realtek ALC5686
up to 32bits / 384kHz PCM decoding support (no DSD/MQA)
Output Load: 16 – 200 Ohm (adaptive)
Output power: 30mW per channel (32ohm)
SNR: > 120dB
THD: < – 92dB
auto-impedance sense function
Dimensions (excl plug) : 16,6mm x 16,2mm x 9,6mm
Weight: 3.5g
So yeah, we are far from our usual DAC/Amp, boasting massive figures at 32ohms. But, considering the size, I'm more interested to see if it offers the same improvement we've found on the previous models.
TC44A
Here's where thing becomes interesting. As the missing link between the TC35Pro and the TC44B, the ddHiFi TC44A comes with a much better DAC and twice more output power. Like the prior TC44, you get a CS43131 chip, provided by Cirrus-Logic, for full 32bit/384kHz PCM decoding capability and up to DSD256 native support! (but no MQA, for those who care).
To my surprise, if the TC44A offers a 4.4mm Pentaconn output, this one came out a single-ended output! So don't expect the same balanced sound you'd get from a device like EarMen's Sparrow or Colibri. That said, the NuPrime Hi-mDAC, boasting the same DAC, also comes in a single-ended version only, while being one of the best USB-key-sized devices we ever had for review… 
So let's give the TC44A a chance and see how it goes.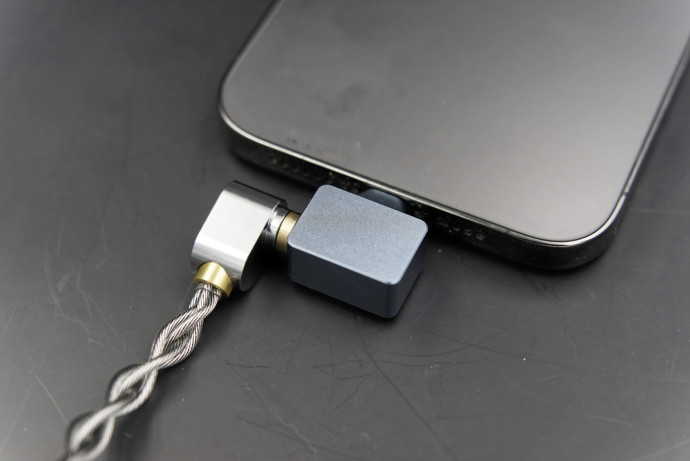 Full specifications
Model: ddHiFi TC44A
Type: OTG Lightning Plug DAC
DAC: Cirrus-Logic CS43131
up to 32bits / 384kHz PCM decoding support + up to DSD256
Output Load: 16 – 300 Ohm (adaptive)
Output power: 60mW per channel (32ohm)
SNR: > 120dB
THD: < – 110dB
auto-impedance sense function
Dimensions (excl plug): 19,5mm x 21mm x 12mm
Weight: 5.5g
The article continues on Page Three, after the click here
Page 1: About the brand
Page 3: Sound performance