In this article, we review the iBasso DC03Pro, the new dual-chip DAC/AMP dongle from the brand, available for just $69 USD.
Disclaimer: the iBasso DC03PRO was sent to us, free of charge, by the brand in exchange for our honest opinion.
About iBasso
Founded in Shenzhen, China, more than ten years ago, iBasso has been producing DAPs, DACs and IEMs for audiophiles. And over time, they've become one of the most acclaimed brands for those seeking budget-friendly, but high-performance gear.
And if the iBasso DX320 stole the show, with stellar sound performances and snappy UI, putting the brand back in the spotlight, they've also released great IEMs like the iBasso IT04, and an excellent set of usb-key-sized DAC with the DC01, DC02, DC05 and more importantly, the DC06.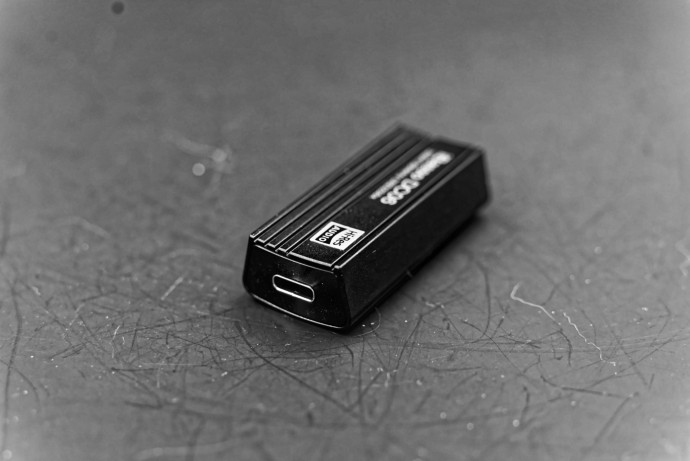 This one remains, to this day, one of my favorite portable DAC/AMP, thanks to its small size, bulky but catchy design, and excellent performance-to-price ratio. But, a year later, the market has become even fiercer, with competitors from established brands like FiiO, HiBy, Hidizs and newcomers like ddHiFi.
So, iBasso had to catch up, and came with two new models: the DC04 Pro, a new DAC/AMP, slimmer, fancier, more affordable, packing a set of dual Cirrus-Logic CS43131 chips and a dual headphone output; and its little brother, the DC03 Pro, a trimmed down version, sold for half the price – the one we'll review today!
Design & Build Quality
Casing
Contrary to the bulky-but-sexy DC06, which looked like a mini CPU-Radiator, the new iBasso DC03PRO adopts a sleek, streamlined, design. Almost three times smaller, the aluminum case looks like the epitome of portability, embracing all the codes of modern tech apparel.
End to end, the DC03PRO is just 49,4 mm long, 21 mm wide, and 8 mm thick, for just 10,5 g on the scale. To those measurements, you can add the USB-C cable, or USB-C to 8-Pin if you're using an iPhone like me. Thanks to that, the DAC can easily be carried in a jeans pocket, a jacket, or simply stick to your phone if you're ok with QI-wireless charging.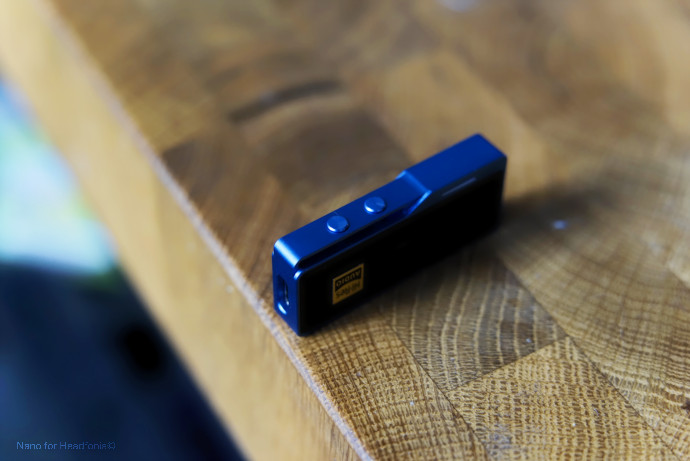 Entirely made of CNC-milled aluminum, the case is covered on each side with tempered glass, giving the iBasso a strong visual appeal. Sure, I miss the bulky design of the DC06, but I'm pretty sure that the DC03PRO design will appeal to more people – at least those who dislike thick DAC/AMP.
Again, from afar, you could easily mistake the DAC for an USB-Key, or a hardware crypto-wallet, like the new Ledger, Especially with the two control-volume buttons, sitting on the side.
Build Quality
Once again, this new unit is absolutely flawless in terms of build quality. It doesn't scream "POWER" like the DC06 could, but instead gives a subtle sense of finesse with the hollow design of its volume guard, and lightweight body.
Available in two colors – black or blue – the iBasso DC03PRO is made of an anodized, CNC-milled aluminum body, topped by superb glass panels on each side. It's a screw-less design with a single 3.5mm TRS socket on one side, USB-C on the other end, and volume buttons on the left side (or right depending on what you consider the top is). Everything looks and feels nice to touch and hold, reminding me of the old NuPrime Hi-mDAC, another great pocket DAC, but enhanced.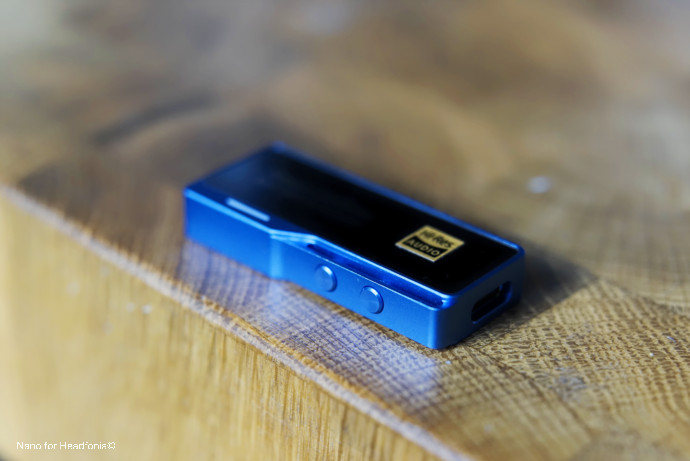 It feels almost as premium as Maktar's X2 Lightning Dongle, which remains my top choice for whoever wants a flawless device, with its matte-black tubular frame, but the iBasso DC03PRO aims at a different public, craving for an entry-level DAC, with mid-level performances…
To be completely honest, I got used to the DC06, which became one of my go-to devices, paired with the Shanling MG600, and switching for the DC03PRO first felt like a downgrade – essentially due to the weight difference. But over time, the latter kind of grew on me, and I rediscovered the joy of light, slim, USB-DAC.
All in all, it's a very nice piece of work, and it really gives a good impression.
Bundle
Quick work on the bundle: it's dire, but not more than other models. It comes with an USB-C to USB-C cable only, but you can also order the CB18 premium USB-C to USB-C alternative – the one seen in my pictures – and an USB-C to 8-Pin connector for your iPhone.
Alternatively, you could get a Lightning to USB-C adaptor like the ddHiFi TC28i, and plug it between the DC03PRO and your iPhone. It's up to you!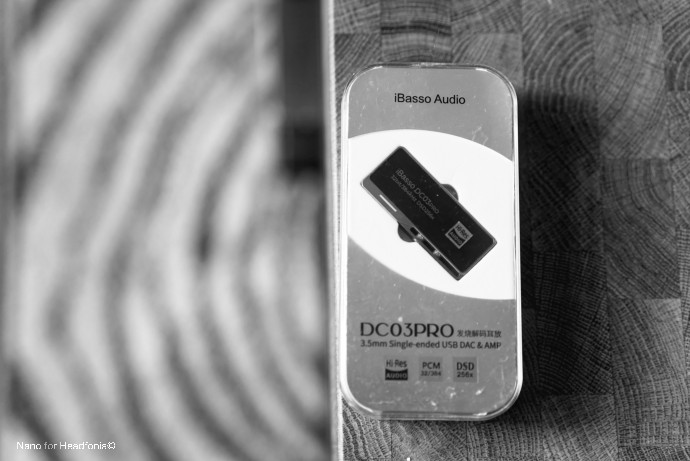 Comfort and Specifications
Daily use
The iBasso DC03PRO is extremely simple to use.
You plug it into your phone, insert your headphone jack, and you're good to go. There were no issues with my iPhone 13 Pro Max + TC28i + DC03PRO, or with my MacBook + CB18: each time, the iBasso was immediately recognized by the source, and music came out almost instantly. On Windows, I had to wait a minute, until the OS got the right driver but after that, it worked flawlessly.
In parallel, a third-party software seems available for Windows and Android users, named UAC iBasso. Made for the DC0X series, this software enables UAC 2.0 controls, to unlock the full 100 steps hardware volumes, 5 digital filters, 3 gain levels, and L/R balance – something that many listeners seem to ask for. But as an iOS user, I didn't have the chance/will to try it and felt already grateful to get additional volume control on my iPhone, thanks to the DC03PRO.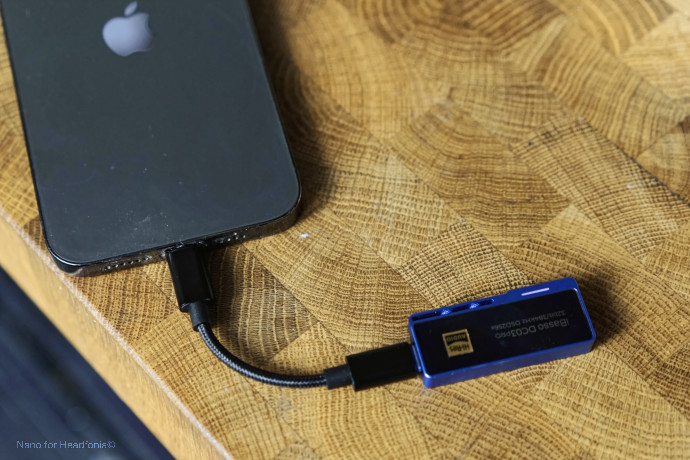 Volume control that's still missing on all and every USB-DAC dongle, apart from this one, the HiBy FC04 and NuPrime's Hi-mDAC. Last but not least, you can spot a tiny LED light on the top side, indicating the current sampling rates:
red for standby, when no music is playing

green for PCM files

blue for DSD files
Let's take a quick look at the specs now.
Specifications
Unlike all and every DAC I've reviewed recently, the iBasso DC03PRO ditched ESS-Tech, for the good old CS43131 from Cirrus-Logic – and not one, but two in dual-mono mode. It's a great chip, found in many mid-to-high-end devices, like the Astell&Kern SR25, or the Cowon Plenue R2, packing a lot of powers and many great features like:
an integrated GND-centered with a Class H headphone driver able to output 30mW per channel at 32Ohms

full PCM decoding up to 32bit / 384kHz and an advanced 32-bit oversampled multi-bit modulator with mismatch shaping technology

Improved output level up to 2 VRMS into 600 Ω headphones
To that, iBasso added its own "sauce", to enable the full potential of the DAC, and furthermore, output more power with a lower floor noise. So, upstream of the dual CS43131 chips, the brand added its own USB-receiver chip, combined with an FPGA controller and a femtosecond oscillator, something we've already seen in previous models, like the DC05.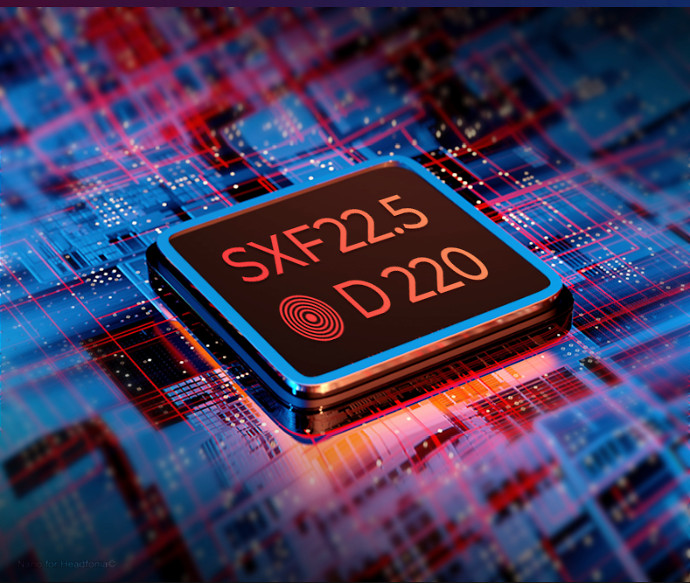 On top of that, the power supply gets a completely redesigned synchronous DC-DC converter, feeding a Texas Instruments Low-Noise Charge Pump Plus LDO, which minimizes power consumption. Long story short, the iBasso DC03PRO drags half less power than other DAC and outputs more current.
Powered by my iPhone, the iBasso DC03PRO is capable of outputting 98mW @ 32 ohms, in TRS mode, while maintaining a supremely low THD of just 0.00022%. But the real feat this time isn't from what we hear, but what we won't: noise floor.
The brand was notoriously known for its noisy players, from the old DX80 up to the DX220. But, since the iBasso DX300, all of that changed, and every device has been an improvement since, with the DC03PRO on top now, reaching nanoVolt level – 900nV or 0.9uV, topped with a 127dB of Signal to Noise Ratio and a 0.12-ohm output impedance.
Finally, for the nerds out there – like me – here are the full specs.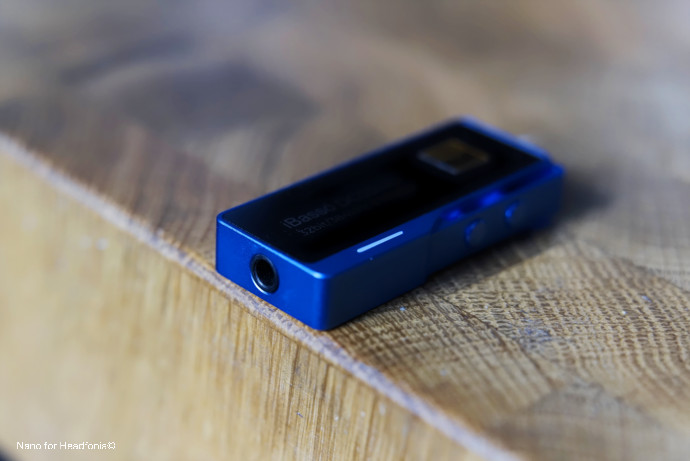 Technical specs
Type: USB DAC

Model: iBasso DC03PRO

Chipset: 2x Cirrus-Logic CS43131

Frequency range: 20 – 20 000Hz

Compatibility: PCM up to 32bit/384kHz – DSD up to DSD256

SNR: 127dB

THD: 0.00022%

Output voltage: 1.77Vrms @ 32ohms / 2Vrms @ 300ohms

Output impedance: <0.12 ohm

Noise Floor: <900 nV

Size: 49,4 mm x 21 mm x 8 mm

Weight: 10,5 g

Socket: USB-C
The article continues on Page Two, after the click here