Audeze
Another of my favorite brands on the market. They didn't have a dedicate booth this year but their headphones could be seen all over the show and at Canjam
The Audeze LCD-X and LCD-XC still are two of their headphones I absolutely love, though the original LCD2.1 still is the most special to me.
I was very surprised to see the brand new LCD4-Z at he show. Audeze released the MX-4 not that long ago so this really came as a surprise to me.
The Mobius of course was present as well.
Audio-Technica
The ATH-M50 was one of my first headphones but after that I have to admit my love for AT kind of faded. They always come to the shows with a nice booth and an incredible amount of headphones and more.
AudioQuest
Ear- and headphone-wise AudioQuest wasn't showing anything new at the show. Yes there is some big news to come soon, but I can't say too much about it yet.
If you've never listened to the AudioQuest NightHawk it will still surprise you in several ways. It's a headphone that really grows on you, but I have to say I'm an even bigger fan of the NightOwl as the clarity in that unit is just so much more impressive.
Next to these headphones, AudioQuest is also very well known in the personal audio world because of the Jitterbug and the DragonFly units. The RED one still is my favorite USB-dongle on the market.
AudioValve
I reviewed the Solaris not that long ago and up to today it's one of the best sounding smooth and romantic tube amps that has been in my office
The AudioValve gear is really impressive in sound and looks, though that's a personal thing of course. Do listen to the amps if you ever get the chance.
Aune
The Aune booth was really small and hard to find but I do still feel their products offer great value for money. Here's the S5.
We've reviewed a lot of Aune gear of the years, and it many more reviews are to follow.
I myself look forward most to the B2 portable amp.
Sure it's not like looking at a vintage tube through the window, but I still dig the design
Auris Audio
The Serbian company has quickly become very popular, and that doesn't surprise me at all as they have great gear.
The HA2-SE (which isn't in the pics) won our amp of the year award and the TOTL Headonia you can see above if one of the best amps in its league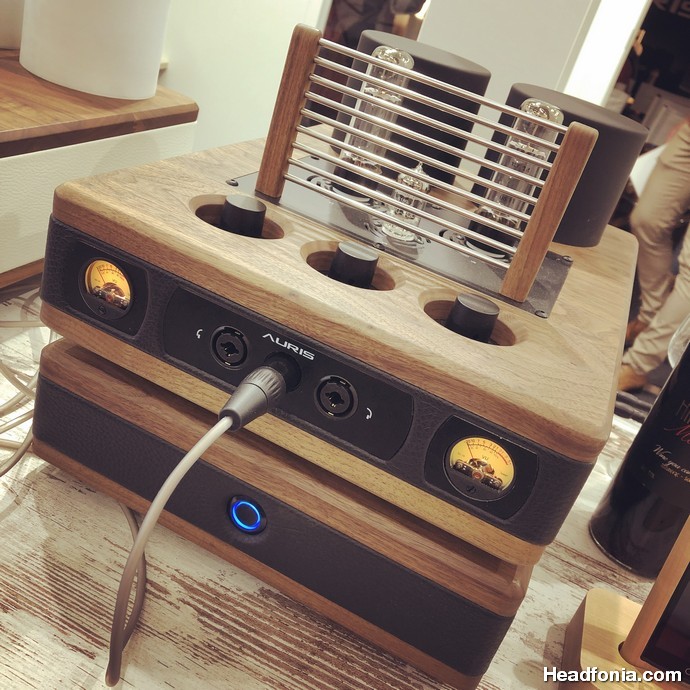 I myself was looking forward most to the brand new Nirvana amp however. The Nirvana comes with a dedicated power supply (2 versions) and sits between the HA2-SE and Headonia in their product line-up. The Nirvana with the upgraded version of the Power supply looks gorgeous as you can see. Auris doesn't only know great sound, but great design as well. I can't wait to listen to it at home.
It continues on PAGE 3, after the CLICK HERE or by using the jump below